VOD December 2020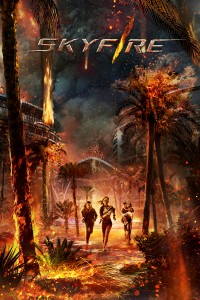 Actie

Beschikbaar voor VOD: 3 december 2020

Regie: Simon West

Cast: Jason Isaacs (The Infiltrator, Fury, The OA, Hotel Mumbai), Hannah Quinlivan (Skyscraper), Alice Rietveld, Xueqi Wang (Iron Man 3)
Hoewel een geologe voorspelt dat een sluimerende vulkaan, trekpleister van een Chinees themapark, op uitbarsten staat, weigeren overheid en zakenlui de bezoekers te evacueren. Als het eiland plots bedolven wordt onder vuurballen en lavastromen, ontbrandt letterlijk en figuurlijk een race tegen de tijd om iedereen te redden.
Reviews
Asianfilmstrike.com: Wang Xueqi is as commanding a presence as ever, and gives Sly Stallone some competition when it comes to being a believable action hero in his seventies, and Jason Isaacs makes a strong impression. There are a few genuinely nail-biting scenes: a jeep's mad dash through raining lava right to the edge of a cliff is a showstopper.
Asianfilmfans.com: This is Skyfire, a modern [English language] Chinese disaster movie – the end of product of what happens when you mix Jurassic World and Dante's Peak – and oh boy, are you in for a treat.
Fareastfilms.com: shows the swaggering expertise of Chinese cinema today.
Screenhkblog.wordpress.com: Simon West's workmanlike direction does deliver some goods here.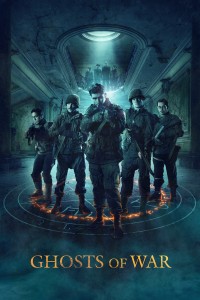 Horror, Oorlog

Beschikbaar voor VOD: 10 december 2020

Regie: Eric Bress

Cast: Brenton Thwaites (Pirates of the Caribbean Salazar's Revenge), Theo Rossi (Sons of Anarchy, Luke Cage), Kyle Gallner (American Sniper, Jennifer's Body)
WOII, het Franse platteland. Vijf geharde Yanks moeten een op de Nazi's heroverd kasteelbewaken. Wat een vakantie lijkt, verandert echter al snel in een nactmerrie. Het landgoed in een spookhuis. De originele bewoners, op gruwelijke wijze afgeslacht door de Duitsers, zinnen op wraak en spelen hun eigen demonen tegen hen uit...
Reviews
Variety.com: This is the rare horror exercise you wish were longer.

RogerEbert.com: One of Bress' greatest strokes comes with casting - he's collected five faces you might recognize from younger, more innocent roles, and who are compelling to see here as men who have matured rapidly due to the wartime experiences eating away at them.

Variety.com: Beautifully atmospheric, handsomely produced.

Culturecrypt.com: Ghosts of War may look like a haunted house yarn dripping with déjà vu from the outside.  Inside, there's so much more that makes the movie impressively entertaining. 8/10.

Ukfilmreview.co.uk: Explores the madness that weighs on men who've done the unthinkable by trapping them in a situation where they must face their demons. Kyle Gallner delivers an appropriately haunted performance as one of the soldiers.

Thefilmstage.com: Gallner is especially memorable). It's through these actors that we see how their characters process their pain above and below the façade created and understand why they're incapable of looking beyond their tragic wealth of regret.