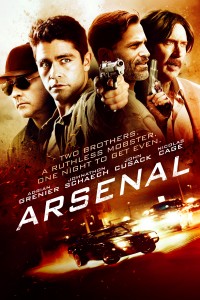 Action

Available on VOD: 16 maart 2017

Director: Steven C. Miller

Cast: Nicolas Cage (The Bad Lieutenant, Drive Angry, Leaving Las Vegas, Kick-Ass), John Cusack (2012, Drive Hard, Cell, Hot Tub Time Machine), Adrian Grenier (Entourage, The Devil Wears Prada, Marauders), Lydia Hull (Van Wilder, Escape Plan 2), Johnathon Schaech (That Thing You Do, Marauders, The Prince)
A powerful action thriller, ARSENAL tells the intertwining stories of the Lindel brothers, Mikey (Johnathon Schaech) and JP (Adrian Grenier), who had only each other to rely on growing up. As adults, JP found success as the owner of a construction company, while Mikey became a small-time mobster, mired in a life of petty crime. When Mikey is kidnapped and held for a ransom by ruthless crime boss Eddie King (Nicolas Cage), JP turns to the brothers' old pal Sal (John Cusack), a plain clothes detective for help. In order to rescue his brother, JP must risk everything and unleash his vengeance against King's relentless army of gangsters.
Reviews
Wegotthiscovered.com: The actor gives the kind of performance that awed directors let Brando give at the end of his career: one that's completely OTT.
Omenly.com: Nicolas Cage (Eddie King) throws around his nuttiness and violent yet amusing reactions in a way that keeps the audience interested.
Cutprintfilm.com: Any moment Cage is on screen here becomes hypnotic. You're drawn into every single bizarre choice the actor makes, completely uncertain of what he's going to do next. In one of the film's best scenes, Eddie's brother Buddy (Deadfall director and Cage's real-life brother Christopher Coppola) shows up to reprimand Eddie for his sloppiness. What follows is a slow-motion dance of carnage, with splashes of blood flying up into Cage's glorious mustache.
DallasFilmNow.com: Arsenal frames its relentless beatings doled out by Nicolas Cage against slow-motion effects and a melancholic hymnal of sorts.
Filmschoolrejects.com: Cage is mesmerizing whether he's talking, sobbing, hissing, or ranting - his War of the Gargantuas reference is especially endearing.
Goodefficientbutchery.blogspot.nl: Cage is here to do exactly what you expect him to do: shout, yell, scream, spaz out, and totally Cage it up.
Joblo.com: Cage's whacked-out performance is what makes ARSENAL worth checking out, with him having a blast throughout. He doesn't phone it in at all, and Cage is always fun to watch when he's in gonzo mode.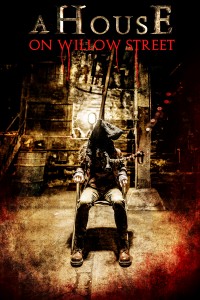 Horror, Thriller

Available on VOD: 24 maart 2017

Director: Alastair Orr

Cast: Carlyn Burchell (Bomb Girls), Sharni Vinson (Step Up, Bait), Gustav Gerdener, Zino Ventura, Steven John Ward
Roguish kidnappers devise a plan to abduct the daughter of a wealthy diamond distributor. When they have her locked up in their hideout, they realize she's been possessed by a sinister demon. The kidnappers are forced to bargain for their souls and deal with their personal demons as they appear in physical form inside the house.
Reviews
Britflicks.com: Fortunately, From A House On Willow Street does have great looking set pieces. They showcase beautifully the fantastic visual effects of George Webster and computer generated wizardry of Derik van den Berg. Equally, Director Alastair Orr delivers a few frights and confidently captures the mania and fear.
Eyeforfilm.co.uk: There's a lot more visceral horror here than in the average supposedly gruesome possession film, so it works well enough for a Friday night thrill.
Horrocultfilms.co.uk: It's visually impressive, has some strong set pieces and the pacing's fairly good.
Projectedfigures.com: There is much fun to be had with its po-faced silliness and macabre maximalism.
Wyliewrites.com: From a House on Willow Street has some amazing makeup work, one of the best posters of any film at the Toronto After Dark Film Festival, and the film includes the most clever scare in a horror in recent years. The film also utilizes chiaroscuro effects to great value.
Dreadcentral.com: A good setup, a majority of solid characters (and cast) and some balls-out demon action in the final stretch manages to ensure From a House on Willow Street provides enough entertainment to see you through to the end.