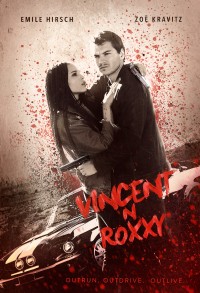 Crime, Thriller

Available on VOD: 11 mei 2017

Director: Gary Michael Schultz

Cast: Emile Hirsch (Lone Survivor, Killer Joe, Into the Wild), Zoë Kravitz (Mad Max Fury Road, Divergent, Allegiant, X First Class), Zoey Deutch (Dirty Grandpa, Why Him, Beautiful Creatures), Emory Cohen (Brooklyn, The Gambler), Scott Mescudi (Entourage, Need for Speed)
If Hip-Hop and Rock -N- Roll had a love child she would be Roxxy, an inner city girl in trouble. Vincent is a consummate loner from small town America searching for meaning in his life that has become intertwined with dangerous people. One morning, these two lost souls meet when a vicious killer attacks Roxxy on the street in broad daylight before a crowd of witnesses. Vincent tries to save her, forcing Vincent and Roxxy to go on the run for their lives. They soon learn violence will follow them everywhere, even as they unexpectedly fall in love.
Reviews
Cinemagazine: In de Amerikaanse pers werd 'Vincent N Roxxy' vergeleken met Winding Refn's wraakthriller 'Drive'. Qua toon, opbouw en bloederigheid is daar een zaak voor te maken, al is 'Drive' beduidend slimmer en met meer finesse gemaakt. Op het platteland wordt nou eenmaal meer met de botte bijl gehakt, zullen we maar zeggen. Toch is 'Vincent N Roxxy' niet alleen bruut. De film toont hoe een stelletje ten onder gaat aan keuzes die ze maakten voordat ze elkaar echt kenden. En dat ontroert, want Vincent en Roxxy zijn schattig samen. Lees de hele review hier.
HollywoodReporter.com: A slow-build love story that takes a hard left turn at the end. Emile Hirsch and Zoe Kravitz, as strangers thrown together by a violent incident, enjoy an easy chemistry here, encouraging viewers to forget the menace that starts the story and, with startling violence, will end it.
Indiewire.com: When things take a hard left turn and the powder keg of violence finally explodes, the fallout is shocking to a degree that's almost never seen in new American cinema.
Letterboxd.com: A stiff-lipped, fist-clenched, tragic romance with a gruesome hunger for violence. The final shot echoes Drive in a way that will inevitably draw some comparisons.