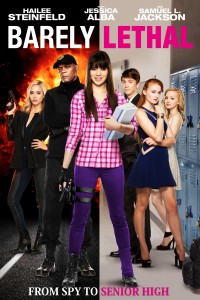 Action, Comedy

Available on VOD: 2 februari 2016

Director: Kyle Newman

Cast: Hailee Steinfeld (True Grit, Ender's Game, Pitch Perfect 2), Samuel L. Jackson (Pulp Fiction, Django Unchained, Kingsman - The Secret Service, The Other Guys ), Sophie Turner (Game of Thrones), Jessica Alba (Sin City I & II, Fantastic Four, Entourage, Little Fockers), Jaime King (Sin City I & II, Dokter Hart, Pearl Harbor)
Yearning for a "normal" adolescence, Megan (Hailee Steinfeld), a 16-year-old international assassin trained at the Prescott School for Girls, fakes her own death and enrolls in a suburban high school. When her disgruntled training master Maxwell Hardman (Samuel L. Jackson) and a dangerous arms dealer Victoria Knox (Jessica Alba) track her down, Megan finds herself with more extracurriculars than any teenager could handle.
Reviews
Indiewire.com: Criticwire Survey - The Best Non-Top 10 Films of 2015: It's a dastardly funny comedy, and, in what has to go down as the actor's best year ever, it features Samuel L Jackson as Steinfeld's drill-sergeant-like covert handler. Newman gives the movie a "Mean Girls" touch — and a wit that really is killer.
Examiner.com:the tone is firmly tongue-in-cheek ... Steinfeld gets Megan's social naiveté and desire for acceptance. She's exactly the kind of girl we cheer for in all of those old Hughes films. We want her to remain herself, become popular anyway, and get the guy she deserves to be with.
Blu-ray.com: a quick pace and a jokey superspy atmosphere, almost resembling a "Spy Kids" sequel in the manner the effort merges cartoonish action with broad performances.
CBSlocal.com: I liked Steinfeld in this film, as she has a commanding presence and makes the shift easily from the tough agent to the lost high school girl, at almost a moment's notice. She has great chemistry with both Jackson and Alba, making their roles believable.
Soundonsight.com: Steinfeld and Turner are superb casting choices, possibly the best two actresses in the world that director Kyle Newman (Fanboys) could have gotten for those particular roles. Although Steinfeld has been in some clunkers since her Oscar nomination, she's still a great actress, and is fully committed here.
The-other-view.com: The story is rock solid, easy to follow, straightforward. It's kinda fun and a total throwback to the 80s/90s high school comedy films, with some decent action tossed in.
Themovienetwork.com: Barely Lethal is fun, funny, and an all around enjoyable film. It combines aspects of teen comedies that would make John Hughes proud with action movie sensibilities.
VillageVoice.com: Barely Lethal's combination of bawdy humor and earnest affection for its high-school-aged protagonists is surprisingly well-balanced.
TheHollywoodnews.com: It's great to see Newman, D'Arco and co. attempting to mix things up with something a little bit different.
Empire.com: this high-school actioner ghosts by on its charm and sense of fun.
Cine-vue./com: The movie is brimming with terrific one-liners. That sense of humour carries the film a long way; Steinfeld is a natural at comedy, and she is ably supported by a strong cast, including Samuel L. Jackson, Thomas Mann, Jessica Alba, and Disney starlet Dove Cameron.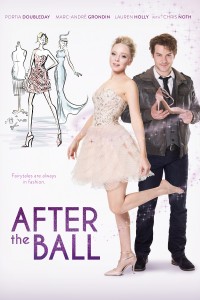 Romantic Comedy

Available on VOD: 9 februari 2016

Director: Sean Garrity

Cast: Portia Doubleday (Her, Carrie, K-11, Youth In Revolt), Marc-André Grondin (Goon, C.R.A.Z.Y.), Lauren Holly (NCIS, Motive, Dumb & Dumber, What Women Want), Chris Noth (Sex and the City, The Good Wife)
Kate Kassell's dream is to design couture clothing, but after graduating at the head of her class in fashion school the harsh reality hits -- no one will hire her. She's the daughter of retail guru and knockoff pioneer Larry Kassell, whose stores sell clothes "inspired" by the verydesigners Kate wants to work for. Kate is left with no choice but to join Kassell Clothing, where she must navigate around a duplicitous stepmother and two wicked stepsisters, whose aim is to discredit her at every turn. But through a budding romance with a prince of a guy in the shoe department, her godmother's vintage clothes and a shocking switch of identities, Kate is able to expose the evil trio, save Kassell Clothing -- and prove that it's what's on the inside that counts. 
Reviews
Cinemablographer.com: Fun performances from the spirited cast, especially Doubleday and Grondin, make After the Ball a charming winner. Over-the-top supporting turns by Mimi Kucyk and Carlo Rota as Kate's fairy godmothers are amusing, as is Colin Mochrie's sneering rival for the family empire. This glossy production (a Don Carmody work) has the slickness of a Hollywood studio lark, and offers light, bubbly, and fun. After the Ball is stylish entertainment and a little bibbidi bobbidi boo escapism.
Rowthree.com: Doubleday is great playing double duty as the two characters, Grondin is charming as the leading man, Lauren Holly is rather brilliant as the evil stepmother, Chris Noth kills the suit and glasses look while Mimi Kuzyk and Carlo Rota (if Stanley Tucci isn't available for your over the top, gay man role, call Rota. Actually, it would be great to see them playing brothers!) steal every scene they're in. After the Ball was a huge surprise, the kind of movie you don't get to see at a festival but which is so sorely needed among the heavy dramas. An endlessly entertaining comedy that fires on all cylinders. I can't wait to see it again!
Screenrelish.com: I look forward to watching AFTER THE BALL all over again with my daughter who is an uber tween, and I know she will enjoy it. There is enough here for both adults and kids to think about and laugh over together and that in itself is a major accomplishment.
Aisleseat.com: Portia Doubleday is very good in the lead role, displaying some solid comic timing and a flair for physical comedy.
Blu-ray.com: Cast charisma keeps it afloat, working the Kate/Nate ruse to pleasing results, with Doubleday finding the right beats of alarm to play as the designer's trouble increases when threatened with national exposure. There's a climatic ball to help the fairy tale out, and some mild shenanigans when Kate is double-booked as Nate, requiring some quick thinking and costume changes. After the Ball is a very soft, easily digestible effort that's out to charm, not challenge. And it works, remaining sweet without causing cavities.
Straight.com: After the Ball is a likable Cinderfella tale.
Theglobeandmail.com: Titular ball scene, fancy dress makeover and lost stiletto shoe notwithstanding, the chaste nominal romance is less interesting than the fun, family-friendly Shakespearean shenanigans are.
Wyliewrites.com: A pleasing romantic comedy that disarms and delights.