VOD March 2021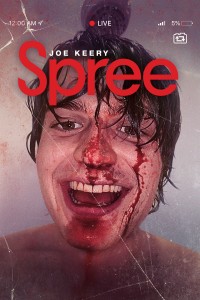 Thriller

Available on VOD: 4 maart 2021

Director: Eugene Kotlyarenko

Cast: Joe Keery (Stranger Things), Sasheer Zamata (I Feel Pretty), David Arquette (Never Been Kissed, Scream 4-5, Bone Tomahawk), Mischa Barton (The Sixth Sense, The O.C, Notting Hill)
Thirsty for a following, Kurt Kunkle is a rideshare driver who has figured out a deadly plan to go viral. As hisdisturbing live stream is absurdly embraced by the social media hellscape, a comedienne becomes ouronly hope to stop the rampage.
Reviews
RogerEbert.com: "Spree" brilliantly shows influencer culture for the totally demented lifestyle that it is.
Crookedmarquee.com: Darkly entertaining.
JoBlo.com: A charged-up thriller that will no doubt find an audience among genre fans, as well as Keery's many fans off of "Stranger Things" who will get a kick out of him playing a role that's both similar to Steve Harrington and starkly different. It's a fun little film that's well worth a look.
Rendyreviews.com: You can't help but to watch and Keery's performance has you at the edge of your seat. An immersive experience.
Austinchronicle.com: Keery has natural charisma, and is turning that to increasingly interesting ends.
Battleroyalewithcheese.com: Spree's abrasive style offers a darkly alluring condemnation of influencer culture driven by a career-best performance from Joe Keery.
Horrorbuzz.com: Spree is a worthwhile ride along with solid momentum and murderous mirth.
Collider.com: American Psycho update for the digital age.
HollywoodReporter.com: A serial-killer flick that couldn't possibly be more of its moment, Eugene Kotlyarenko's Spree sets the world's thirstiest wannabe influencer off on one final, lethal quest for followers. Stranger Things' sneakily charming Joe Keery gets the spotlight here, balancing the character's contradictory aspects (dork, fumbling people pleaser, psychopath) with ease.
Thrillist.com: a Bloody, Funny Ride Through Online Hell.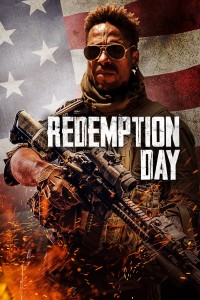 Action

Available on VOD: 11 maart 2021

Director: Hicham Hajji

Cast: Gary Dourdan (CSI, Alien Resurrection, Perfect Stranger), Serinda Swan (Tron), Andy Garcia (The Godfather, The Untouchables, Geostorm), Ernie Hudson (Ghostbusters, L.A.'s Finest)
After being awarded the Medal of Honor for his bravery during a firefight against ISIS, U.S. Marine Captain Brad Paxton (Gary Dourdan) is suffering from the long-term effects of being in a war zone. In the care of his loving wife, Kate (Serinda Swan), Brad is trying to adjust to civilian life. When Kate, a renowned archeologist, is given a once-in-a-lifetime career opportunity in  Morocco, Brad urges her to follow it. When Kate arrives, she is captured by a terrorist group who demands a $10 million ransom for her return. Brad rushes to Morocco where the U.S. ambassador (Andy Garcia) has ceased negotiating Kate's release after the deal jeopardizes the United Nations' talks for future oil rights in the region. As the unusual circumstances of Kate's abduction are revealed, Brad is forced to use his military skills in a daring and deadly operation to find the men responsible and save the woman he loves.
Reviews
Blu-ray.com: Dourdan is a fine tough guy.

Bulletproofaction.com: How many times can I call Gary Dourdan a badass in my review? Who knows, but he's definitely a badass.

Dansmoviereport.blogspot.com/: a blast of energy and angst, worthy of a re-watch, and to own, rating a strong 8 out of 10.

Worldfilmgeek.com: Redemption Day is not only Gary Dourdan's ticket to be a future action hero, but one who is truly human with a politically charged script by Hicham Hajji. A good way to start 2021!