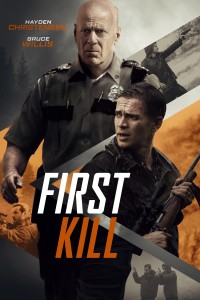 Action, Thriller

Available on VOD: 5 oktober 2017

Director: Steven C. Miller

Cast: Bruce Willis (Die Hard, Red, Sixth Sense, Split), Hayden Christensen (Star Wars: Episode II, III, Jumper), Gethin Anthony (Game of Thrones), Megan Leonard (The Life and Death of John Gotti)
In this gripping action thriller starring Bruce Willis, a man and his son witness a thug shooting a bank thief while on a hunting trip. When the bank robber takes the boy hostage in order to recover the money from the bank heist, the frantic father and a police chief (Bruce Willis) must join forces to solve the high-stakes kidnapping with a ticking clock.
Reviews
Chicago.suntimes.com: The blood-soaked potboiler First Kill is Generous Pour through and through, from Bruce Willis playing a cop for the umpteenth time in his career to the old switcheroo we can see coming a mile away to the pounding and overwrought score to some genuinely effective detours and subplots.
Variety.com: A reasonably entertaining series of off-road chases and backwoods shootouts en route to that final confrontation.
LATimes.com: First Kill features an efficient, lightning speed plot.
Maddwolf.com: Willis supplies his natural gravitas and Ohioan Shelton makes an impressive big screen debut. As young Danny, Shelton's easy rapport with Gethin Anthony (as kidnapper Levi) is a constant highlight.
Thatmomentin.com: A decent crime thriller.
Dallasfilmnow.com: First Kill is competent and involving. The action scenes — including one vehicle/RV chase that's constructed cleverly with an uninterrupted sense of place via gliding tracking shots — never feel unrealistic or exaggerated. And even though the film telegraphs a few of its third act character reversals, Miller and screenwriter Nick Gordon plumb the depths of innocence versus malignancy with a shrewd eye for satisfying entertainment.
TheIndependentCritic.com: fully devoted to telling a story and telling it well.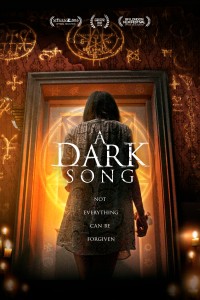 Horror, Thriller

Available on VOD: 31 oktober 2017

Director: Liam Gavin

Cast: Catherine Walker , Steve Oram (Sightseers, The End of the F***ing World (Netflix hit))
Selected for the International Competition at the 35th BIFFF -- Brussels International Fantastic Film Festival 2017!
Sophia has a steely look in her eyes as she insists on renting an old house in the remote countryside. She gives the estate agent a little extra cash for no questions asked.
Sophia collects a man at the nearby train station. Joseph Solomon is a northern, coarse man. And an occultist. She needs him to perform an ancient invocation ritual, the Abramelin, to summon up Sophia's Guardian Angel so her wish can be granted. She wishes to talk to her murdered child; it's a desire that consumes her.
The ritual is an extremely arduous one. They seal themselves in the house, possibly having to stay there for months as it plays out. As they get deeper into the rite they run the risk of turning on each other and going mad. But when Solomon finds out that Sophia has not been truthful about her wish, a greater danger threatens them. In the dark, they find that they are no longer alone in the house. They are now in the world of real angels, and real demons.
The house is surrounded with a line of salt. It is the only protection they have. They must not cross it, no matter how bad it gets, no matter how much they want to run.
A Dark Song is the story of two people risking hell to journey through the darkness of their souls.
Reviews
SchokkendNieuws.nl: Een ijzersterke film die me voorlopig niet los zal laten. 5*. Lees hier de hele review.
Cinemagazine.nl: A Dark Song staat als een huis: een naargeestige, hypnotiserende film met een ontroerend einde dat nog lang nazingt. Lees hier de hele review.
Beneaththeunderground.com: The debut feature from writer/director Liam Gavin is a uniquely chilling piece of occult cinema. A two person film, held together with excellent performances and tons of atmosphere A DARK SONG isn't for everyone. It's a slow burn and those watching it will, like the leads, be in for a long trip but the payoff will be worth it.
Cutprintfilm.com: A pitch black and confronting two-hander, A Dark Song challenges and excites with its uncompromising and original approach. That it is more a character study than a genre piece is what is most intriguing, blurring the lines between a psychological and hallucinatory thriller and a straight up, angels and demons, Dennis Wheatley-style horror with a final brain-melting ten minutes that is one of the finest surprises of the year. 8/10.
Dmovies.org: A Dark Song is an intense horror movie and a trip into Irish occultism. In his debut, Liam Gavin uses the genre to bring to surface a subject that most people find difficult to deal with: the loss of a son. Far above the average spooky movie, this feature disturbs and provokes.
Efilmcritic.com: This is very much a movie that feels like it has put in the time and effort necessary for the supernatural to intrude into reality, a feat that is much rarer than horror filmmakers would have us assume. Pair that with a couple of good, intense performances, and "A Dark Song" is one of the most interesting and unusual tales of the supernatural to come around in some time. 4/5.
Goseetalk.com: A Dark Song is a gripping character study that succeeds because of the minimal effects and fanfare. It'll thoroughly creep you out, especially the things you don't see.
Heyuguys.com: A Dark Song is a ridiculously strong and beautifully acted piece of work.
Screenanarchy.com: Rather than give the usual frights, Gavin instead goes for the lonely heart of the occult: the attempt to contact the beyond, for the most heart-wrenching of reasons. A Dark Song takes a hard and serious look at the pain of loss and grief, and how that pain transforms into burden and enlightenment.
Wegotthiscovered.com: A Dark Song digs its claws in and never lets go, finding horror in rituals, personal reflection and burning black-magic sensations. It's dreadfully inviting from start to finish, with an almighty climax at just the right time. 4/5.
Quietearth.us: A smart and savvy example of horror's new breed.
Screeninvasion.com: The movie is a visceral experience that must be seen in a theater. For one, the cinematography is beautiful. Another reason to see it in the theater? It's killer score.
Slashfilm.com: It's an utterly unique film that uses its slow pace to lay the dread on thick and and build its characters so it can turn around and tear everything down in the homestretch. And the ending, which will surely prove divisive, is an audacious choice for a genre so often built on nihilism. A Dark Song may be a hard-edged and occasionally difficult movie, but it has soul.
Pastemagazine.com: A Dark Song is ostensibly a horror film but operates as a dread-laden procedural, mounting tension while translating the process of bereavement as patient, excruciating manual labor.
Scary Epidemic: A Dark Song is a excellent horror/drama about a young woman who is trying to contact her dead son with the help of a strange man who deals in the dark magic of the occult. [It] might be one of the best horror movie i have seen about the occult, because its literally only about the performing what you usually see getting rushed in lame horror movie that just want to shock people. 8.5/10.
Horrorchannel.co.uk: This film is fierce, containing many scenes that will make even the hardest hardcore horror fan squirm, but the violence is justified the movie contains moments of surreal beauty that gives it a far deeper meaning than you originally anticipate. One of the top 10 films of 2017!
Awards
Sitges 2016: New Visions Award - Best Motion Picture
Monster Fest 2016: Best Cinematography in a Feature Film
Monster Fest 2016: Best Score in a Feature Film
Fantasporto 2017: International Fantasy Film Award, Best Director
Fantasporto 2017: International Fantasy Film Award, Best Actress
Saskatoon Fantastic Film Festival 2016: Audience Choice Award, Silver Award