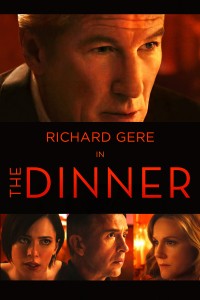 Drama, Thriller

Available on VOD: 16 augustus 2018

Director: Oren Moverman

Cast: Richard Gere (An Officer and a Gentleman, Pretty Woman, Arbitrage, The Second Best Exotic Marigold Hotel ), Steve Coogan (The Trip to Spain, The Other Guys), Laura Linney (Nocturnal Animals, Sully), Rebecca Hall (The Town, Frost/Nixon), Chloë Sevigny (Antibirth, The Snowman)
When Stan Lohman (Richard Gere), a popular congressman running for governor, invites his troubled younger brother Paul (Steve Coogan) and his wife Claire (Laura Linney) to join him and his wife Katelyn (Rebecca Hall) for dinner at one of the town's most fashionable restaurants, the stage is set for a tense night. While Stan and Paul have been estranged since childhood, their 16-year- old sons are friends, and the two of them have committed a horrible crime that has shocked the country. While their sons' identities have not yet been discovered and may never be, their parents must now decide what action to take. As the night proceeds, beliefs about the true natures of the four people at the table are upended, relationships shatter, and each person reveals just how far they are willing to go to protect those they love.
Reviews
Variety.com: Moverman balances the potential for staginess with his flowing cinematic bravura; he keeps surprising you, and he gives the drama a dash of poison elegance.
The Playlist.net: This is a film that glories in juxtaposition, as exchanges of bestial ferocity hiss back and forth in an excruciatingly elegant destination restaurant, and as poisonously feral barbs are traded across a table laden with elaborately effete hors d'oeuvres.
TheWrap.com: At once a darkly comic social satire, a pitch-black moral thriller and an earnest plea to recognize mental illness, The Dinner is a seven-layer dip overflowing with compelling individual ingredients.
Urbancinefile.com.au: All the performances are astonishing. This is an outstanding piece of cinema, provocative and insightful, filled with metaphor and the recognisable flaws of humanity and the world today, yet far from bitter.
Blu-ray.com: The film delivers on both emotional and perhaps especially moral grounds, exposing the traumas experienced by a quartet who can't even decide what the right thing to do is, let alone doing it.
TheIndependentCritic.com: The Dinner is a riveting adult drama that will have you replaying the film over and over again in your mind as you search for the meaning of it all and come face-to-face with the uncomfortable truths.
WeGotThisCovered.com: An imperfect but fascinating film, The Dinner's stellar cast delivers a deeply troubling and psychologically complex treatment of class and family.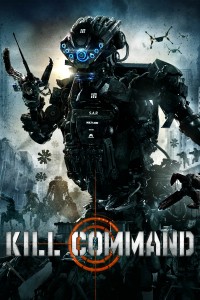 Action

Available on VOD: 23 augustus 2018

Director: Steven Gomez

Cast: Vanessa Kirby (Me Before You, Mission Impossible - Fallout), David Ajala (Furious 6, The Dark Knight), Mike Noble (Jack Ryan: Shadow Recruit), Bentley Kalu (American Assassin), Tom McKay (The Lost Legion)
Set in a near future, technology-reliant society is creating killing machines. Against this backdrop an elite Marine unit is helicoptered in to a remote, off-the-grid island training facility, to test the capabilities of the latest prototypes. They set up positions and make short work of the AI targets in the killing field. However, overnight their sentry goes missing, and when they find the corpse the next day they find themselves in the killing field and the tables have turned. The Marines fight to survive on an island that is overrun by an enemy intelligence far beyond their predecessors, which learns from their every move.
Reviews
Avforums.com: It is impressive, particularly for the budget, and the AI creations are positively menacing as they stalk their human prey. Indeed, Kill Command does justice to all of the classics that it gleefully references, and the result is a surprisingly enjoyable indie gem.
ActingHour.com: 'Kill Command' is cult film in the making, an enthralling thrill-ride, that capably maintains the balance between action and philosophical explorations of how we view technology, how technology views us, and what it means to be human.
GamesRadar.com: Steven Gomez's sci-fi thriller comes on like the ultimate James Cameron homage and fortunately, the retro vibe extends to the storytelling, which is a brisk and well-judged balance. It's a promising debut; the director's background is in VFX and his low-budget creations outshine many blockbusters.
TheGuardian.com: Superior sci-fi action thriller.
TheHollywoodNews.com: A hugely creative, highly polished and truly solid action/ sci-fi. Highly recommended.
ScreenAnarchy.com: If you love military tech and killer robots the production design are top shelf.
RadioTimes.com: has a lot more going for it than many bloated Hollywood studio equivalents.
FlickeringMyth.com: an impressive first feature. The production design is slick and cool, borrowing colour palettes and influences from many classic sci-fi films to achieve a clean, cold look. The story, while simple, lends itself to great dramatic tension which is beautifully executed by the cast, and Gomez's VFX experience undoubtedly contributes to the flawless CG, which looks much better than a lot of recent big-budget releases.
BritFlicks.com: VFX whiz-kid Gomez succeeds where his peers often fail, and gives us an entertaining and exciting piece of future-tech gone wrong.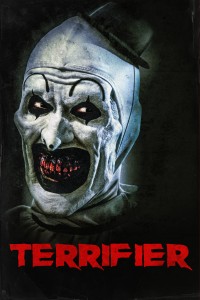 Horror

Available on VOD: 16 augustus 2018

Director: Damien Leone

Cast: Jenna Kanell (The Bye Bye Man), Catherine Corcoran (Amityville Vanishing Point), David Howard Thornton, Samantha Scaffidi (The Demon Hole)
In for a Pennywise, in for another pound of blood-dripping flesh. You thrilled to IT, now chill to Art the maniacal clown of all your worst nightmares. Appearing initially in director Damien Leone's 2008 short THE 9th CIRCLE, then the 2011 award-winning short TERRIFIER, horrifying Art returns for his first full-length frightener. Here Leone delivers all the gore and much more in this slasher exploitation extravaganza that's both lip-smackingly disturbing and screamingly shocking. For Art is back on the silent prowl ready to terrorise three young women on Halloween night and anybody who stands in his dismembering way.
Reviews
ImagineFilmFestival.nl: B

estaan ze nog; horrorfilms die bewust akelig en bloederig zijn, niet geschikt voor mensen met een zwak gestel, maar bedoeld voor de echte fans? Absoluut, en Damien Leone's Terrifier is da

ar een overtuigend bewijs van. Hij koos ervoor het grootste deel van zijn vermoedelijk bescheiden budget te besteden aan practical effects, en 

dat is te zien. In wezen is dit 84 minuten lang stalken en slashen, en die eenvoud werkt perfect. De film is buitengewoon bloederig en clown Art steekt Pennywise naar de kroon.

JoBlo.com: It's a thrilling, brutal, gory '80s throwback. I could see Art the Clown being embraced by the horror community in a major way. He's got a memorable look, he's scary, and he kills people real good. 8/10!
Bloody-disgusting.com: The real star of this movie is obviously Art the Clown. I'd honestly rank him among the scariest clowns in horror, if not the creepiest ever. A huge crowd-pleaser. Packed with gore and featuring one of the coolest clown villains I've seen in a long time, Terrifier was a treat for anyone seeking a bloodbath.
Bloody-flicks.co.uk: Leone's mission was to create a truly unsettling horror film and he succeeds with bloody glee as Terrifier is certainly a film that will stay with you long after those credits have rolled.
FilmInquiry.com: Art is a gorgeously disturbing vision.
Flickeringmyth.com: Backed up with a pulsing synth score, dark gallows humour and a concise 81-minute running time, Terrifier is an extremely satisfying horror movie.Taut, nightmarishly unsafe, mercilessly brutal, and at times pretty stylish for a grindhouse throwback.
The Artful Critic: quickly grows into an endlessly tense experience for the viewer.
Modernhorrors.com: A tour de force of mayhem and disgust.
En nog veel meer: klik hier.