VOD September 2016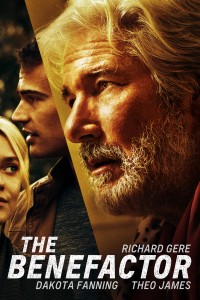 Drama

Available on VOD: 1 september 2016

Director: Andrew Renzi

Cast: Richard Gere (An Officer and a Gentleman, Pretty Woman, Arbitrage, The Second Best Exotic Marigold Hotel ), Dakota Fanning (Man on Fire, War of the Worlds, The Twilight Saga, Voor ik doodga), Theo James (The Inbetweeners Movie, Insurgent, Divergent, Underworld: Awakening)
After a hedonistic philanthropist survives a car accident that kills his married best friends, he ingratiates himself into their daughter's life in order to relieve his guilt and recreate the friendship he lost.
Reviews
WeArePublic.nl: Richard Gere is aan een renaissance bezig met een aantal bejubelde rollen op rij. In deze complexe rol gaat hij zich helemaal uitleven!
Variety: flamboyant turn by Richard Gere is the heart and soul of The Benefactor, an off-kilter character study of a Philadelphia philanthropist whose eccentricities both mask and manifest a dark side. The movie ends in a more conventional place than the one where it begins, yet it still marks a surprising and graceful first fiction feature for writer-director Andrew Renzi. There are moments of indulgence that make you wish someone would walk in from off camera and hand the actor an Oscar, just to get it over with.
Hollywoodreporter.com: Renzi's conception of the man's oncoming collapse is sharp in some ways: for instance, how both of his crutches, drugs and the assumption that generosity buys love, fail him simultaneously. (While one doubts such a rich man would have much trouble finding narcotics when his doctor cuts him off, the smarmy desperation of his attempts is one of the film's most compelling elements.) Similarly, Franny's ability to be genuinely empathetic with a frightened child despite his trouble connecting with adults rings true.
Eyeforfilm.co.uk: Richard Gere is exceptional, pulling off the flamboyant style and exuberant nature of Franny, but also managing to make him feel three dimensional. There would have been a real danger here that The Benefactor could have been written too much like a Willy Wonka style figure, friend to children and stuck in childhood intimacies, but Gere effortlessly grounds him by making him exactly the kind of larger than life character that is actually comfortably believable. His performance is stellar.
Filmfracture.com: Gere is fantastic as Franny, and he manages to steal the show time and again with his eccentricities and overzealousness. When his addiction overtakes him the anger and pain that comes through demonstrate the talent Gere possesses.
Iheardthatmoviewas.com: Richard Gere brings a performance that is wonderful yet excruciating to watch, especially for the final act of the film.
Roboapocalypse.blogspot.nl: The Benefactor is an entertaining and unusual piece of work that played extremely well on this past Friday evening at its world premiere at the Tribeca Film Festival. For fans of Gere, this is a must-see, and for people looking to "find" a director before they're big, this is also a must-see. Renzi should have a very successful career ahead of him.
Thefilmstage.com: As a fast-talking, boisterous individual with the right quip for every exchange, Gere embodies this entertaining side, but also excels in dealing with the character's darker vices. With a loneliness behind his eyes even when he's around his closest acquaintances, it's a tender performance that helps keep one invested.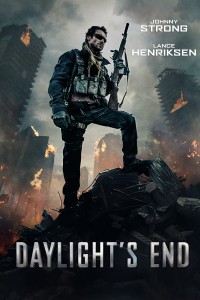 Action

Available on VOD: 23 september 2016

Director: William Kaufman

Cast: Johnny Strong (The Fast and the Furious, Black Hawk Down, Sinners and Saints), Lance Henriksen (Aliens, Millennium), Louis Mandylor (My Big Fat Greek Wedding 1 & 2, One in the Chamber), Chelsea Edmundson (Gangster Squad)
Years after a mysterious plague has devastated the planet and turned most of humanity into blood-hungry creatures, a rogue drifter on a vengeful hunt stumbles across a band of survivors in an abandoned police station and reluctantly agrees to try to help them defend themselves and escape to the sanctuary they so desperately need.
Reviews
28dayslateranalysis.com: Daylight's End and the creators know what their strong points are: action sequences and terrifying scenarios. Consistently uptempo and full of great musical selections, the film creates a compelling and thrilling atmosphere. And, this viewer will be first in line, when the film is released in home entertainment formats; this tense film is not to be missed.
Joblo.com: Daylight's End is an exceptionally well made film. The budget was relatively low, but that isn't felt in the film, which appears to play out on an epic scale, with its convincing shots of deserted disaster areas and abundance of action and gunfire. Kaufman knows action, that's the genre he has primarily been working in up to this point, and he used that knowledge to make the action sequences in this film as cool and thrilling as possible.
Mikefury.net: One of the most striking elements of the film are the visuals. Kaufman has built a reputation creating slick, cinematic and equally gritty character-driven action with a definite air of coolness. This is made much easier when the star is Johnny Strong, who has to be one of the most underrated leading men in movies today. So for true action fans, horror buffs or anyone who still loves an authentic, exciting movie experience by great artists, Daylight's End is a real blast.
Theactionelite.com: The movie is action-packed with plenty of violence and some cool weapons too so if you get to see the movie make sure you've got the sound turned up to 11 for maximum impact. Daylight's End brings the action goods with a badass hero in Johnny Strong, fast pacing and an unconventional script.
Truthoncinema.com: Pure Adrenaline and Carnage. This film sets a standard for indie projects with vision larger than their budgets. It rolls hard and fast and pays the consequences for that choice, but ultimately walks away a winner; combining the action-oriented sensibilities of Resident Evil with the world-building prowess of I Am Legend. A worthy edition to the ranks of apocalyptic thrillers, Daylight's End is sure for a cult following if not mainstream success.
Screenanarchy.com: One of the best things about this film is the action. The gun battles are meticulously choreographed and made with precision. The tactics are sound and the filmmakers have a clear familiarity with the weapons used. The fights are visceral and feel real, making them much more exciting than most of the CGI-laden films that regularly hit our screens these days.