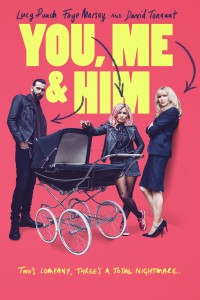 Romantic Comedy

Available on VOD: 1 februari 2018

Director: Daisy Aitkens

Cast: David Tennant (Broadchurch, Doctor Who, Harry Potter And The Goblet Of Fire), Lucy Punch (Into the Woods, Bad Teacher, Dinner for Schmucks, A Good Old Fashioned Orgy), Faye Marsay (Game of Thrones, Pride), Simon Bird (The Inbetweeners, Friday Night Dinner), Gemma Jones (Bridget Jones Trilogy, Veep)
YOU, ME AND HIM is a witty romantic comedy set in middle class England about two female lovers, one a career driven lawyer (Lucy Punch) and the other a fun loving, pot smoking layabout (Faye Marsay); and their annoying Casanova neighbour (David Tennant).  While neither woman ever wanted children, both end up pregnant, creating conflicts that cause each to re-examine their outlook on life and the relationship. YOU, ME AND HIM brings humour, controversy, tears and surprises that will keep audiences in fits of laughter from the opening credits to the final curtain.
Reviews
Cinemagazine.nl: Wat overigens ook heel verrassend is, is dat 'You, Me and Him' ook nog weet te raken op verschillende momenten. Dit valt wederom te wijten aan sterk spel, vooral van Faye Marsay die haar stoere en vrije karakter ook een zachte en emotionele kant weet te geven. Hele review hier.
cgiii.com: You, Me & Him jogs on at a sprightly pace with laughs aplenty and will, undoubtedly, warm the cockles of your heart. David Tennant...do more comedy! Daisy Aitkens...write and direct more films!
eyeforfilm.com.uk: an honest portrait of the complexity of real life relationships as many people experience them – something mainstream cinema needs more of.
Midlandmovies.com: The film is overall lightweight but takes a meaningful look at the serious issues of LGBT love (not a "large sandwich" as the film jokes) and the multifaceted intricacies of modern relationships. With three wonderful showings from Punch, Marsay and Tennant, the film is an enjoyable romp with plenty of laughs without forgetting the affectionate support needed for mothers, fathers and partners.
TheHollywoodNews.xom: You, Me and Him is quite the delight; it's hilarious and charmingly executed with enough heart and passion behind its story to keep you smiling and keep you entertained for its runtime.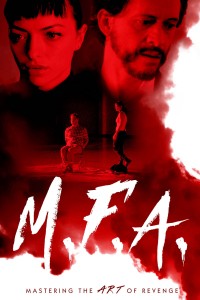 Thriller

Available on VOD: 8 februari 2018

Director: Natalia Leite

Cast: Francesca Eastwood (Heroes Reborn, Final Girl), Clifton Collins Jr. (Pacific Rim, Star Trek), Leah McKendrick (Bad Moms), Peter Vack (Mozart in the Jungle)
Noelle, an art student struggling to find her voice, is sexually assaulted by a fellow classmate. Attempting to cope with her trauma, she impulsively confronts her attacker, leading to a violent altercation that culminates in his accidental death. Noelle tries to return to normalcy, but when she discovers that she is only one of many silenced sexual assault survivors on campus, she takes justice into her own hands. A vigilante is born - retribution is the inspiration she's been waiting for.
Reviews
Variety.com: Francesca Eastwood delivers a tough, eye-opening performance in the lead role, and her character's vengeance packs a cathartic punch.
LaTimes.com: Eastwood is absolutely riveting, inhabiting a true violent vigilante worth rooting for.
ScreenAnarchy.com: A hard-hitting thriller. Nightmares are made of this.
Hollywoodreporter.com: Lethal vengeance is a potent muse in M.F.A.
ChicagoReader.com: In the lead role, Francesca Eastwood takes after her father, Clint: she's magnetic and convincing as a vigilante.
Thehollywoodnews.com: Eastwood shines like the star she is destined to be.
Nofilm.school.com: Natalie Leite's rape-revenge thriller stars a riveting Francesca Eastwood seeking vigilante justice. 
Culturecrypt.com: On its surface, "M.F.A." satiates appetites for slasher suspense with gruesome visual gusto to match psychological intensity percolating underneath. Though suggestive insight into cause and effect regarding all radiating crimes is where the movie really makes it mark, haunting the head with provocative questions while hitting hard in the heart with righteous rage.
Bloody-disgusting.com: M.F.A. is intensely engaging, thought-provoking, and also mesmerizing. Aided by Eastwood's dynamic performance (her emotional range is uncanny), M.F.A is an empowering film that's just as enlightening. 
Assholeswqatchingmovies.com: Eastwood is INTENSE in M.F.A. Like, maybe more intense than her father has ever been.
Cinemaslaher.com: MFA is a heartbreaking gut-punch that takes the subgenre and elevates it to another level. This one promises to be polarizing due to its unique take on such a harsh subject matter, but it's a damn fine film.
Dailydead.com: Anchored by a career-making performance by Eastwood, M.F.A. shook me to my core in a way that I wasn't expecting.
TheHollywoodOutsider.com: Not since The Accused has a movie perfectly captured a topic as toxic as M.F.A. does here, and no film at SXSW this year moved me as passionately to push a conversation forward as much as this one. Anchored by a genre-defying performance from Francesca Eastwood, M.F.A. deserves to land at the top of your must-see list. 
Weliveentertainmant.com: Franchesca Eastwood's performance is utterly spectacular. She carries the film on her shoulders and nails every scene she's in, while also having this odd likeability to her that isn't typical for modern day protagonists. Even when Noelle goes into full blown violent vigilante mode, Eastwood never loses sight of who the character of Noelle is. Her quietness, minor quips of humor and all around intentions are expertly balanced by Eastwood, making herself instantly the next big thing in the industry.