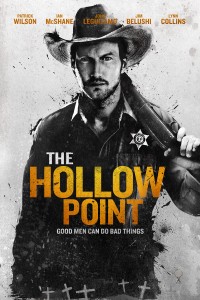 Action, Crime, Thriller

Available on VOD: 16 december 2016

Director: Gonzalo López-Gallego

Cast: Patrick Wilson (The Conjuring, Insidious, Watchmen, Fargo II), Lynn Collins (X-Men Origins Wolverine, John Carter), Ian McShane (John Wick, Ray Donovan, Pirates of the Caribbean: On Stranger Tides ), John Leguizamo (The Lincoln Lawyer, John Wick, Kick-Ass 2, Ride Along), James Belushi (According to Jim, K-9)
An aging retired sheriff (Ian McShane) with violent tendencies and his young replacement with a dark past (Patrick Wilson) must join forces to protect the residents of their town and investigate the source of a botched Mexican arms deal that leaves several dead and a bag of money missing. As the story twists and turns, a mysterious and vicious cartel hit man (John Leguizamo) arrives in search of the missing loot, systematically eliminating anyone who crosses his path. After discovering that the new sheriff's girlfriend is on the hit man's list, the lawmen must abandon their law enforcement ideals in order to even the playing field.
Reviews
Hollywoodreporter.com: An over-the-top, heavily stylized B-movie-ish mash-up of modern Western and bloody thriller, The Hollow Point sees U.S.-based Spanish director Gonzalo Lopez Gallego (The King of the Hill) seeking to bring a new angle to the bad men in the badlands genre. As homage, the film is visually striking, littered with moments of real cinematographic intelligence, and always watchable, in a nasty sort of way. Bloody fun in the badlands.
Variety.com: Wilson is persuasively resolute as the sheriff, and Belushi does sweaty desperation like a pro. But McShane effortlessly overshadows both of them with a flamboyantly mannered performance charged by alternating currents of contemptuous sarcasm and pessimistic gruffness.
Culturefix.co.uk:Â A brutally entertaining thriller that allows McShane and Wilson to deliver some badass cool.
We Got This Covered: a blazing contemporary western that finds pleasure in punishment.
Thepeoplesmovies.com: Patrick Wilson and Ian McSha take on the cartel in contemporary western meets Mexploitation flick. Director Gonzalo López-Gallego ensures this is a fun, action-packed trip even when navigating through Nils Lyew's overcomplicated narrative. The Hollow Point is nonetheless a brutally entertaining thriller that allows McShane and Wilson to deliver some badass cool. 4 out of 5 stars.
Kneelbeforeblog.co.uk: Wilson and McShane are the high points of this film. Their buddy chemistry is completely on point and there is lots of great dialogue between the two of them. Each of them can give as good as they get from the other and there are plenty of laughs too be found in their interactions. James Belushi has a memorable turn as a duplicitous used car salesman and John Leguizamo is excellent as a machete wielding Mexican hitman.
Flickfeast.co.uk: With a number of great lines scattered throughout the script, even if it's just a running joke regarding people uttering the word asshole after their first encounters with Wilsons character (who has just returned to the town after some time away), and a few moments of white-knuckle tension, this is everything you could want from a crime thriller/neo-Western. As well as Wilson and McShane, the film also boasts some excellent performances from Lynn Collins, John Leguizamo, and James Belushi. The last one may be the biggest surprise, but it's possible that this is the sort of role he's just been waiting for over the past few years. Is it worth mentioning that McShane almost steals the movie? Yes, I think it is, because he gets many of the best moments.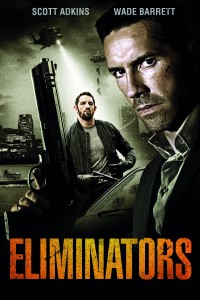 Action

Available on VOD: 19 december 2016

Director: James Nunn

Cast: Scott Adkins (Dr. Strange, Grimsby, The Bourne Ultimatum, The Expendables 2), Stu Bennett a.k.a Wade Barrett (WWE Main Event), Daniel Caltagirone (Lara Croft Tomb Raider: The Cradle of Life), James Cosmo (Game of Thrones, The Chronicles of Narnia), Mem Ferda (Miss You Already, The Devil's Double), Ty Glaser, Olivia Mace
From WWE Studios, Martin Parker (Scott Adkins), a highly trained former DEA agent, is hiding in the witness protection program in London with his young daughter, Carly. His world is turned upside down when a group of thugs break into his home looking for hidden contraband.
Parker is forced to kill the intruders, which exposes his true identity to the criminal underworld, including mob boss, Chris Cooper, who is Parker's arch-enemy as well as ex-father-in-law. Cooper sends his top assassin, Bishop (WWE Superstar Wade Barrett), to kill Parker, while Cooper tracks down Parker's daughter. Parker, now on the run, must defeat Bishop while simultaneously trying to keep his daughter out of the deadly clutches of her grandfather.
Reviews
Blu-ray.com: Scott Adkins and Wade Barrett perform admirably, straightforward, largely, but carrying themselves and their characters satisfactorily well. Recommended.
Bobafett1138: Really one that's well worth your time.
Bulletproofaction.com: Scott Adkins delivered another top notch performance and added to his already impressive filmography of action movies.
Goodefficientbutchery.blogspot.nl: Adkins brings his A-game to this and once again shows he's ready for bigger things.
Roguecinema.com: the plot isn't the drawing point of these films, it's the action scenes, and Eliminators does deliver the goods here.
Theschlockpit.com"Eliminators is resolutely British, and with some awesome sequences set within the nation's capital city, like a couple of cool car chases and an immense bit of cable car combat, London is close to being the star of the picture. Adkins, as always, put his soul into this.