VOD August 2021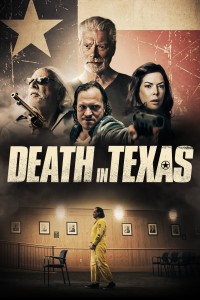 Action

Available on VOD: 5 augustus 2021

Director: Scott Windhauser

Cast: Lara Flynn Boyle (Men In Black II, The Practice, Twin Peaks), Stephen Lang (Avatar, Don't Breathe, In The Blood), Bruce Dern (Monster, The Astronaut Farmer), Ronnie Gene Blevins (The Conjuring III)
Billy Walker (Blevins) is released from prison to find that his mother, Grace (Flynn Boyle), needs a liver transplant or will die within weeks. In the hospital she meets John (Lang) whom she shares some intimate moments with. In a last ditch effort to save her, Billy, descends into El Pasos' dark underbelly of drugs and sex trafficking, discovering unlikely allies and redemption along the way. Billy and his mother wrestle with a lifetime of bad choices, and in the end, only one decision can save them both.
Reviews
Blu-ray.com: Scott Windhauser finds a fresh way to deal with old genre business in "Death in Texas." He commits to character and performance, working to get the audience invested in these damaged people and their emotional history, making clear connections between the players while gradually increasing tension.
Eyeforfilm.co.uk: Boyle has had a number of misfires over the course of her career, but here she really delivers, and she has great chemistry with Lang. The other main performances are similarly impressive.
Jbspins.com: Ronnie Gene Blevins deserves credit for his hardboiled but understated performance as Walker.
Nightmarishconjurings.com: This cast is excellent. Bruce Dern brings that same grit that is present in the entire film and it makes him a perfect baddie. As for Stephen Lang, he's a great actor, giving a great performance of a terribly written character. Truthfully, that's the heart of the issue with this film. It's a grouping of excellent performances.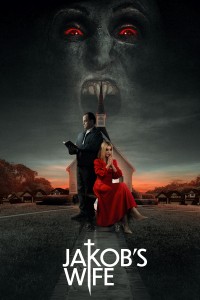 Horror

Available on VOD: 12 augustus 2021

Director: Travis Stevens

Cast: Larry Fessenden (I Sell the Dead, Hellbenders), Barbara Crampton (You're Next, Re-Animator), Bonnie Aarons (The Nun, Silver Linings Playbook)
Anne is in her late 50s and feels like her life and marriage have beenshrinking over the past thirty years. Through a chance encounter with astranger, she discovers a new sense of power and an appetite to live biggerand bolder than before. However, these changes come with a toll on hermarriage and a heavy body count.
Reviews
Joblo.com: a blood-soaked good time that gives Crampton the role of her career.
Filmthreat.com: That uniqueness is in every frame. Believe me when I tell you that Jakob's Wife is worth seeing.
Latimes.com: This is where having actors the caliber of Crampton and Fessenden pays off.
Nightmarishconjurings.com: A vital and shocking modern vampire story, pulses with joy and the electricity that flows through the human heart.
Rogersmovienation.com: Has gloriously icky makeup, over-the-top geysers of blood goofiness, down-and-dirty vampire trash talk laughs.
Rogerebert.com: Fessenden and Crampton play it real. Very well-conceived and well-executed.
Aisleseat.com: Jakob's Wife is freaky, gory, darkly funny, and, best of all, substantive. I very much want to see it again. This is easily my favorite movie from the 2021 SXSW Film Festival.
Austinchronicle.com: By turns funny, grisly, tragic and insightful, Jakob's Wife carries the smartness of years. Never has the idea that vampire and vampire hunter are caught in a codependent relationship been more elegantly and humorously framed.
Culturecrypt.com: Barbara Crampton and Larry Fessenden are fantastic in the film.
Filmschoolrejects.com: A fantastically worthy dynamic. You can't possibly go wrong with a movie that lets Crampton tell a little girl to fuck off.
Slantmagazine.com: Well acted, sturdily constructed, and psychologically astute.
Moviesandmania.com: It's funny, it's bloody and it will warm your bleeding heart.
Backseatmafia.com: Jakob's Wife is up there with her [Barbara Crampton] best performances.
Badfeelingmag.com: a gory and crowd-pleasing horror-comedy that feels perfectly-suited for these times.
Fathersonholygore.com: Awesome genre work. A horrifying, darkly hilarious tale.
Horrorobsessive.com: Fresh, entertaining, and unexpectedly substantive.
Dreadcentral.com: an homage to classic vampire stories and a tribute to Barbara Crampton.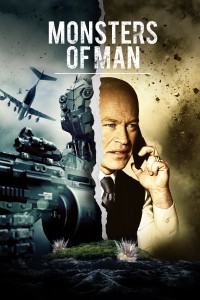 Action

Available on VOD: 25 augustus 2021

Director: Mark Toia

Cast: Neal McDonough (Minority Report, The 100), Brett Tutor, Jose Rosete (The Walking Dead), Jessica Blackmore
A robotics company vying to win a lucrative military contract team up with a corrupt CIA agent to conduct an illegal live field test. They deploy four weaponised prototype robots into a suspected drug manufacturing camp in the Golden Triangle, assuming they'd be killing drug runners that no one would miss. Six doctors on a humanitarian mission witness the brutal slaughter and become prime targets.
Reviews
Bulletproofaction.com: Monsters of Man could easily attract the same kind of cult following that takes an unknown film which went direct to video or streaming and make it the type of film that has three or four sequels.
Explosiveaction.com: This film was mental! Utterly relentless in its execution, these robots are the true modern Terminators.
Horrordna.com: a fast, good-looking film that's a modern Terminator amped up to eleven.
Theactionelite.com: Totally badass and the hard R action make it worth a watch.
Voicesfromthebalcony.com: The robots are heavily armed, but they seem to be quite happy to crush skulls, stomp on people and generally get up close and personal with their victims.