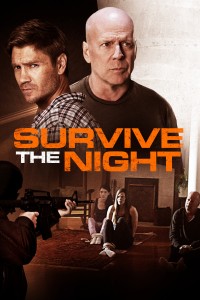 Action

Available on VOD: 6 augustus 2020

Director: Matt Eskandari

Cast: Bruce Willis (Die Hard, Red, Sixth Sense, Split), Chad Michael Murray (Left Behind, Riverdale), Lydia Hull (Van Wilder, Escape Plan 2), Shea Buckner (Escape Plan 2 and 3)
A family's raw emotions are pushed to the limit by two sibling criminals who take them hostage in the action-thriller SURVIVE THE NIGHT. As danger mounts, a patriarch (BRUCE WILLIS) fights for his home and honor; his son (CHAD MICHAEL MURRAY) seeks redemption; and a pair of murderous brothers (TYLER JON OLSON and SHEA BUCKNER) make demands that result in bloodshed and brutality. As they face off at a lonely farmhouse, the skills of one of them holds the balance between survival … and slaughter.
Reviews
Film is nog niet uitgebracht, dus nog geen reviews beschikbaar.