VOD April 2019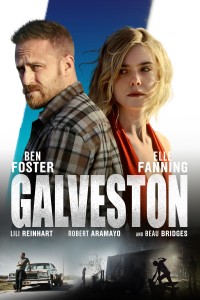 Thriller

Beschikbaar voor VOD: 4 april 2019

Regie: Mélanie Laurent

Cast: Ben Foster (Hell or High Water, The Messenger), Elle Fanning (Maleficent, Trumbo, The Neon Demon), Lili Reinhart (Riverdale), Beau Bridges (Max Payne, Fabulous Baker Boys)
New Orleans, 1988. Roy (Ben Foster, Hell or High Water), een hitman met een geweten en een stevig drankprobleem, krijgt van maffiabaas Stan (Beau Bridges) met opzet een dodelijke missie voorgeschoteld. Maar hij overleeft de valstrik en ontdekt in de nasleep van een schietpartij het tienerhoertje Raquel (Elle Fanning, Maleficent, The Beguiled). Ze slaan samen op de vlucht en pikken onderweg haar driejarige zusje Tiffany op. Opgejaagd door de politie en Stans handlangers, duiken ze onder in Galveston, Texas, een plaatsje dat Roy kent uit zijn mysterieuze verleden. Kan dit geïmproviseerde gezinnetje van misfits alsnog een toekomst opbouwen?
Een Amerikaanse misdaadthriller/roadmovie die wurgende spanning afwisselt met momenten van broze intimiteit, met Franse flair verfilmd door Mélanie Laurent naar de roman van Nic Pizzolatto, de bedenker van True Detective.
Reviews
Moviemeter.nl:Â Hoe simpel het verhaal ook is en vervolgens verloopt, het duo blijft biologeren. Voeg daaraan een mooi gefilmd en spannend slotstuk toe, en een ontroerend einde maakt 't af. Lees de hele review hier.
Rogerebert.com: Some of the darker, more brutal edges of the film hinder it at times as Laurent's poetic visual eye and the stark ugliness of what happens here can feel at odds. But even when the movie struggles with a lead character who is kind of reprehensible, Foster and Fanning hold it together.
TheHollywoodReporter.com: Actor/director Melanie Laurent makes her English-language directing debut with Galveston, a seedy but sincere and strikingly attractive picture.
Boomhowdy.com: For Fanning it's yet another feather in her cap, adding to an already impressive body of work that's sure to extend for decades to come. She slides into the sweet and naive part with minimal effort. One can easily understand why Laurent has made mention that Fanning was her first and only choice for the part. It's Ben Foster though, who cements himself as a consummate actor of note, with his understated, but impactful role.
TheFilmstage.com: Foster and Fanning are predictably great together, cut from the same bayou cloth.
Moveablefest.com: Melanie Laurent's "Galveston" Is So Good It Should Be Criminal. The French writer/director comes out with guns blazin' in her first American film.
Vanyaland.com: But coming in at a brisk 90 minutes, Galveston is a neo-noir model of narrative efficiency anchored by excellent work by two of our finest actors, and a film that will hopefully serve as Laurent's introduction to the world of English-language cinema as something other than an actress.
Birthmoviesdeath.com: The details that make up a great lurid chronicle are here.
Movietalkwithjakesalinas.com: Galveston is a very, very well made crime thriller. It's a simple idea and a simple tale, but it's done so effectively thanks to a great writer-director, and an equally great cast.
Filmschoolrejects.com: Galveston proves the right performers can make any tune dance.
Movieweb.com: A Thrilling Powerhouse That Leaves Its Mark
Austinchronicle.com: Galveston is a deeply touching exploration of the harsh world that shapes its tragic main characters.
Bleedingcool.com: Galveston is tough to watch at times, but with the compelling performances, slow burn pacing, and gut punch ending, it really delivers in the end.
Behindthelensonline.net: oster's Roy Cady is a man of little words and speaks with physicality, be it by physical strength or shoulder lowering humility or shame. Fanning finds the perfect balance of naivete and emotional growth for Rocky. Together it's impossible to take your eyes off them.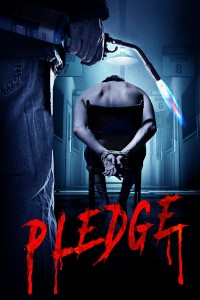 Horror, Thriller

Beschikbaar voor VOD: 21 april 2019

Regie: Daniel Robbins

Cast: Zachery Byrd, Phillip Andre Botello, Aaron Dalla Villa, Cameron Cowperthwaite
En jij dacht dat Vindicat erg was?
Wanneer drie eerstejaars + een stelletje hopeloze losers - onverhoopt kunnen toetreden tot een exclusief studentencorps, happen ze onmiddellijk toe. Maar eerst moeten de nerds zichzelf bewijzen. Traditie, toch? Ze hebben echter geen enkel benul van de gruwelijke en bloederige ontgroening die hen boven het hoofd hangt...
Reviews
Moviemeter.nl:Â Â Er wordt degelijk gefilmd, goed geregisseerd en de schare gore weet prima te werken. Hele review hier.
De Nachtvlinders:Â Mijn mening over ontgroeningen en studentenverenigingen zal ik hier niet poneren, maar misschien zegt het genoeg dat ik de tweede helft van de film met een grote grijns op mijn gezicht heb zitten kijken. Pledge is een bescheiden, maar zeer vermakelijke thriller. Hele review hier.
Imagine Film Festival: Alles werkt binnen de eenvoudige opzet van deze film. De opbouw, de personages, de horror en de ontknoping – het is allemaal heel goed gedaan. Meer info hier.
Bloody-disgusting.com: For those that like their thrillers fast and warped, Pledge is an entertaining take on a familiar story. Partying, torture, death, and dark humor makes for a fun and sometimes gruesome watch.
Ukfilmreview.co.uk: Phenomenally well balanced and containing outstanding performances across the board, this is incredible horror/thriller filmmaking.
Thehollywoodnews.com: Pledge offers a fresh spin on the horrors of pledge life through this new genre angle. This film is a bloody and brutal burst of masculinity that packs a punch.
Cinemaslasher.com: Pledge is paced perfectly, with many of the sequences unfolding in real time, which adds a suspenseful urgency to the film.
Culturecrypt.com:Â  a clear-cut slash of traditional thrills biting off only what it can chew with entertainingly sharp teeth.
Nightmarishconjurings.com: A brilliantly crafted thriller.
Haddonfieldhorror.com: Equal parts intoxicating and nauseating.
Pophorror.com: Utterly insane and one hell of a ride.
Thatmomentin.com: A grueling and brutal rollercoaster ride.
Adamthemoviegod.com: A masterclass of gritty independent cinema, sure to go down as one of the best independent films of 2018.
Dailygrindhouse.com:  The film is gorgeously shot, a nasty piece of work to show off to your friends so that you can watch them cringe, and with the tight runtime, you just go in, get your hands and soul messy, and get out. A cutthroat, grueling experience.
Dreadcentral.com: With the insane incidents that happen to the guys in this film, I feared if the overall concept of this movie had ever been done for an actual pledge.
Filmthreat.com: Watching Pledge, I almost felt like I had found the loophole in the system and discovered that it doesn't take a big budget or a recognizable IP to sell a ticket. I was wholly entertained from the start to the finish.
Eyeforfilm.co.uk: a solid little horror movie with plentiful unpleasantness.Filmpulse.net: A solidly crafted thriller.
Modernhorrors.com: A Mean and Disgusting Home Run of a Horror Film. Don't miss this one.
Nightmarishconjurings.com: A fantastic thriller that kept me entertained and on edge throughout its entire duration, and even surprised me at the end.
Slashfilm.com: Pledge stakes its genre claim on fruitless anger, merciless abuse and satirical wit concerning what we're willing to do for popularity.