VOD September 2017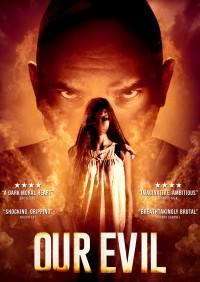 Horror

Beschikbaar voor VOD: 14 september 2017

Regie: Samuel Galli

Cast: Ademir Esteves, Ricardo Casella, Sonia Morena
De liefde van een vader voor zijn dochter kent geen grenzen.
Maar er zijn grenzen die niemand mag overschrijden… Wanneer de helderziende Arthur via zijn mentor ontdekt dat de duivel de ziel van zijn 19-jarige dochter Michele komt opeisen, onderneemt hij drastische stappen. Via het deep web neemt hij contact op met Charles, een perverse seriemoordenaar. Die moet zorgvuldig de instructies opvolgen die Arthur hem zal geven. De gruweldaad die hij "bestelt", moet wel voltrokken worden voor middernacht van de dag waarop zijn dochter 20 wordt…
Getormenteerde zielen, demonen, een mislukt exorcisme, een gefragmenteerde tijdlijn, een surrealistische beeldvoering… deze Braziliaanse horrorfilm trekt alle registers open voor een viscerale, wurgende horrorervaring die nog lang op uw netvlies zal blijven nazinderen. Want zijn kwaad is finaal ook… Ons Kwaad.
Reviews
Screendaily.com: using impressive physical effects, Our Evil features gruesome gore sequences which hark back to the video nasties of the 1980s and the torture porn of the 2010s but never descend into gratuitousness. The oily, slimy, cleverly-designed demon creatures are supremely squirm-inducing, with stellar make-up effects work from Rodrigo Aragâo. This is a confident, technically ambitious picture, with an especially effective circus-themed score from Guilherme Garbato and Gustavo Garbato augmented by unsettling sound design from Alessandro Laroca and Eduardo Vermond Lima.
Alan Jones, FrightFest: Shocking, surprising, gripping and always keeps you guessing.
Anton Bitel, Projected Figures: A hitman/serial killer thriller that evokes THE SIXTH SENSE and THE EXORCIST.
Becky Roberts, Horror Talk: An imaginative and ambitious revenge story chock full of shocks and surprises.
James Whittington, Horror Channel: Vicious and violent with an intelligent surreal edge.
BloodyDisgusting.com: Our Evil is an emotionally charged film featuring harrowing acts of violence. It covers a whole spectrum of emotions, styles and horror conventions, and yet manages to hold it all together.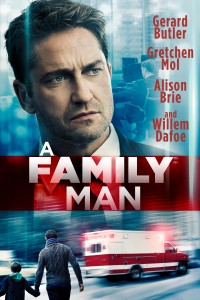 Drama

Beschikbaar voor VOD: 21 september 2017

Regie: Mark Williams

Cast: Gerard Butler (London Has Fallen, 300, The Bounty Hunter), Gretchen Mol (Manchester By The Sea, Boardwalk Empire), Willem Dafoe (The Great Wall, The Grand Budapest Hotel, A Most Wanted Man), Alison Brie (How to Be Single, Mad Men), Alfred Molina (The Da Vinci Code, Prince of Persia)
Dane Jensen (Gerard Butler - London Has Fallen, 300, P.S. I Love You) is een headhunter. Een dealmaker. Een mannetjesputter die het puikje uit de bedrijfswereld ronselt voor een topfirma in Chicago. Wanneer Danes baas (Willem Dafoe - The Great Wall, The Grand Budapest Hotel, Platoon) zijn pensioen aankondigt, speelt hij Dane uit tegen Lynn Wilson (Alison Brie - How to Be Single, Mad Men), zijn ambitieuze tegenpool. Dan ontdekt Dane dat zijn 10-jarige zoontje Ryan aan een levensbedreigende ziekte lijdt. Plots wordt hij verscheurd tussen het bereiken van zijn professionele droom en zijn gezin, dat hem meer dan ooit nodig heeft.
Schitterend geacteerd en meeslepend drama over ambities, familie en het maken van de juiste keuzes, met uitstekende bijrollen van o.m. Gretchen Mol (Manchester By The Sea, Boardwalk Empire) en Alfred Molina (The Da Vinci Code, Prince of Persia).
Reviews
TheHollywoodNews.com: A really rather enjoyable morality tale from debut director Mark Williams, with some brilliant performances and some wonderfully touching moments.
Variety.com: slickly executed.
TIFF.net: The film pulses with the thrill of big money and cutthroat career maneuvering, but its heart is in a very different realm. The film is ultimately concerned with domestic stability in crisis, and with the complex question of what really matters in life. The Headhunter's Calling beautifully illustrates how nearly losing everything can redefine what it means to have it all.