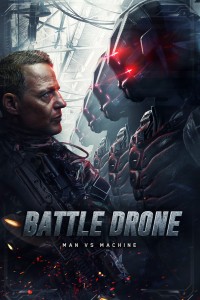 Action

Available on VOD: 5 juli 2018

Director: Mitch Gould

Cast: Louis Mandylor (My Big Fat Greek Wedding 1 & 2, One in the Chamber), Dominique Swain (Face/Off, Lolita), Michael Paré (The Philadelphia Experiment, The Lincoln Lawyer, The Virgin Suicides), Natassia Malthe (Lake Placid, Percy Jackson & the Olympians: The Lightning Thief)
In the vein of blockbusters THE EXPENDABLES and THE A-TEAM, a group of highly skilled mercenaries find themselves betrayed by the U.S. Government, and are forced to fight their way out of an ambush by a new, lethal humanoid drone. Get ready for some intense action!
Reviews
Action-flix.com: Mandylor is in true action hero mode. Battle Drone is an epic indie action blast!
Bulletproofaction.com: Battle Drone did not have the star power of The Expendables or even some of the other movies inspired by the Stallone franchise, but what Battle Drone did have was plenty of video game style action jammed into the 93 minute runtime. I thought the cast had good chemistry and the movie progressed at an entertaining pace. Battle Drone also had a satisfying ending that left the door open for Rekker and company to see more action in the future.
Filmcombatsyndicate.blogspot.nl: For Battle Drone, Gould serves a consistent, solid leading man in Mandylor along with Parè and actress Swain. It's damn good fun!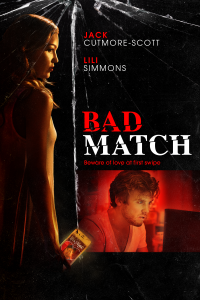 Thriller

Available on VOD: 12 juli 2018

Director: David Chirchirill

Cast: Jack Cutmore-Scott (Dunkirk, Kingsman The Secret Service), Lili Simmons (True Detective, Ray Donovan, Bone Tomahawk), Brandon Scott (Blair Witch), Chase Williamson (John Dies at the End)
Harris (Jack Cutmore-Scott) has it all figured out: a cushy job, great friends, and, thanks to the magic of online dating, an active sex life. But when one of his matches, the alluring Riley (Lili Simmons) wants more than a one-night stand, Harris's perfect life comes crashing down. From writer-director David Chirchirillo (Cheap Thrills) comes this gripping and fresh take on the date from hell that will make you think twice before swiping.
Reviews
TheHollywoodReporter.com: Swipe-swipe-swipe leads to slice-and-dice in David Chirchirillo's nightmare of modern dating. Blending contemporary concern about the dehumanizing effect of app-enabled sex with much older tropes, it should play well with younger viewers.
Variety.com:Â  The movie is "Fatal Attraction" for the age of the revolving-door hook-up, and in its fevered low-budget way it's just clever enough to do what it sets out to do. It gives toxic masculinity its just desserts.
Cinemarter.com: Thanks to the way it subverts expectations, Bad Match winds up being a smarter-than-average and pretty fun stalker thriller.
ThatMomentIn.com: Drawing from the likes of Hitchcock and De Palma, there's a lot visually about Bad Match that ripens this from a standard trope-laden girl gone crazy flick to something far deeper (a particularly good moment comes in a voyeuristic scene at a park). By the third act, you think you know what's going on but Chirchirillo constantly pulls the rug out from under us, forcing us to ask some challenging questions. Madness shapes everything about Bad Match and every step of the way seems blisteringly authentic. This is an online dating nightmare and one you've totally got to go on.
Eyeforfilm.co.uk: An impressive film and an impressive calling card.
Gamerheadquarters.com: In conclusion, Bad Match seems to start off as a typical guy having fun, and slowing evolves into a gruesome tale of revenge. It's the first film by new comer director David Chirchirillo, who did an excellent on the entire thing.
Thehollywoodnews.com: Fresh, clever, and ever so slightly twisted, Bad Match offers a modern take on the one-night-stand-gone-bad story, one that is sure to get everyone talking. We've had the rom-com, we've had the black comedy, Bad Batch is like throwing both into a blender, the results a dark and tasty fresh look at the world around us.
Lylesmoviefilms.com: David Chirchirillo imagines a Fatal Attraction scenario in a Tinder world with some clever alterations. Bad Match proves there's a market for updates on classic films with a modern twist. And it's a pretty great film in its own right.
Meetloverepeat.com: It's an extreme case of online dating gone wrong, but elements of the story will probably ring true to anyone who's entered the world wide web for the search of their significant other.