VOD December 2021
Horror

Available on VOD: 2 december 2021

Director: Peter Szewczyk

Cast: Josh Eisenberg, Paul Statman, Jennifer Churchich (Once Upon a Time in Hollywood), Richard Wagner
Joshua Riverton (Josh Eisenberg) spent 10 years working for a global chemical behemoth, notorious for their environmental negligence. When his daughter develops a mysterious illness, he steps forward as a whistleblower, throwing his life into chaos. He's convinced that his company's negligence has made his daughter sick, and there are dark forces hiding the truth. When given the chance to confront his old boss, Dr. Woeland (Paul Statman), he allows a standoff to escalate into violence, and Josh is shot in the process. Now Josh is on the run, eating painkillers, and holding Woeland hostage. Josh demands answers about his daughter's illness, but with each passing moment around Woeland, Josh's grasp on reality begins to unravel. Is it the painkillers, or is Woeland more than he seems? Are the dark forces all in Josh's head, or has he stumbled onto a terrifying league of evil?
Reviews
Moviesandmania.com: intriguingly and soon becomes unsettling, it develops into something like a nightmarish bad acid trip but it's one worth taking.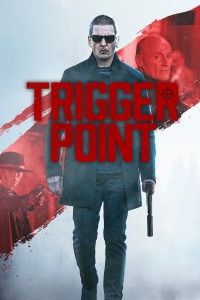 Action, Thriller

Available on VOD: 9 december 2021

Director: Brad Turner

Cast: Barry Pepper (True Grit, Maze Runner 2 and 3), Laura Vandervoort (Jigsaw, The Handmaid's Tale), Colm Feore (Astronaut, House of Cards), Eve Harlow (The 100)
Nicolas Shaw, a disgraced former U.S. secret agent who suffered memory loss at the hand of captors, is dragged back into the darkest shadows of the spy world when he is enlisted by his former partner to help find a missing colleague. Nicolas' skills will be put to the ultimate test as the two men try to unravel the mystery behind her disappearance before it's too late. But to uncover the truth, Nicolas will need to remember the past. Doing so might also be the key to clearing his own name.
Reviews
Bulletproofaction.com: I had a fantastic time watching Trigger Point.

Entertainingmovie.com: An efficient assassin "gone to ground" thriller.

Jbspins.com: Surprisingly stylish.

Lylesmoviefiles.com: a solid action thriller.

Punchdrunkcritics.com: Enjoy watching Nicolas Shaw deliver that sweet, sweet justice down the barrel of his silenced hand cannon. Brad Turner and Barry Pepper Prove a Familiar Story Can Still Be Exhilarating.

Reelfilm.com: compelling action sequences.

Socialnews.xyz: Tough and surprisingly to some degree trendy.