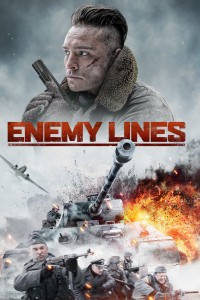 Oorlog

Beschikbaar voor VOD: 23 april 2020

Regie: Anders Banke

Cast: Ed Westwick (Snatch TV Series), John Hannah (Overboard, Agents of S.H.I.E.L.D.), Corey Johnson (Hunter Killer, A Private War, Captain Phillips), Tom Wisdom (Avengers Endgame)
Winter 1943, Polen. Een Brits commandoteam en een Amerikaans officier worden diep achter de Duitse linies gedropt om een raketgeleerde te ontvoeren die het tij van de oorlog zou kunnen doen keren. Ze worden niet alleen op de hielen gezeten door hun Duitse vijand, maar ook door hun Russische "bondgenoten", die hun eigen plannen hebben met de wetenschapper.
Razend spannende oorlogsfilm in de trant van klassiekers als Where Eagles Dare, The Dirty Dozen en The Guns of Navarone.
Reviews
Film is nog niet uitgebracht, nog geen reviews beschikbaar.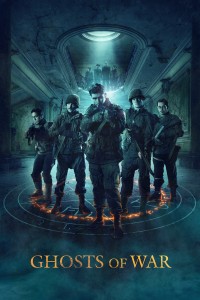 Horror, Oorlog

Beschikbaar voor VOD: 10 december 2020

Regie: Eric Bress

Cast: Brenton Thwaites (Pirates of the Caribbean Salazar's Revenge), Theo Rossi (Sons of Anarchy, Luke Cage), Kyle Gallner (American Sniper, Jennifer's Body)
WOII, het Franse platteland. Vijf geharde Yanks moeten een op de Nazi's heroverd kasteelbewaken. Wat een vakantie lijkt, verandert echter al snel in een nactmerrie. Het landgoed in een spookhuis. De originele bewoners, op gruwelijke wijze afgeslacht door de Duitsers, zinnen op wraak en spelen hun eigen demonen tegen hen uit...
Reviews
Variety.com: This is the rare horror exercise you wish were longer.

RogerEbert.com: One of Bress' greatest strokes comes with casting - he's collected five faces you might recognize from younger, more innocent roles, and who are compelling to see here as men who have matured rapidly due to the wartime experiences eating away at them.

Variety.com: Beautifully atmospheric, handsomely produced.

Culturecrypt.com: Ghosts of War may look like a haunted house yarn dripping with déjà vu from the outside.  Inside, there's so much more that makes the movie impressively entertaining. 8/10.

Ukfilmreview.co.uk: Explores the madness that weighs on men who've done the unthinkable by trapping them in a situation where they must face their demons. Kyle Gallner delivers an appropriately haunted performance as one of the soldiers.

Thefilmstage.com: Gallner is especially memorable). It's through these actors that we see how their characters process their pain above and below the façade created and understand why they're incapable of looking beyond their tragic wealth of regret.