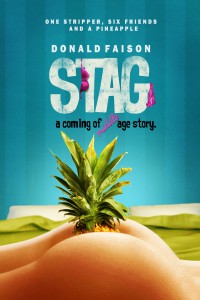 Komedie

Beschikbaar voor VOD: 1 februari 2014

Regie: Brett Heard

Cast: Donald Faison (Scrubs, Kick-Ass 2, Clueless), Eva Amurri (That's My Boy, The Banger Sisters), Jon Dore (Gus, Hooked on Speedman)
Als onbetwiste leider van zijn vriendenkring is Ken ook de toporganisator van vrijgezellenfeesten. Daarbij gaan alle remmen los, over het voorval met de 'de ijsblokjes, het achterwerk en de ananas' wordt nog steeds met pijnlijke grimas nagepraat... Maar nu is de gevreesde dag aangebroken: Ken stapt zelf in het huwelijksbootje en hij verwacht een gruwelijke wraakactie van zijn veelgeplaagde maatjes. Helaas blijkt al snel dat zijn vrienden nog grotere idioten zijn dan hij al vermoedde. De avond dreigt op een sisser uit te draaien, maar gelukkig hebben de jongens wel aan een stripper gedacht! Tot aan het licht komt dat ze eigenlijk de auteur is van de Manopause-blog, waarin ze onvolwassen mannen – Ken en Co, dus – met de grond gelijk maakt.
Reviews
TheDailyRotation.com: Stag exists mildly as a simpler and more channeled version of The Hangover. The jokes are actually slightly better.
Blu-ray.com: has its heart in the right place.
Awards
LA Comedy Fest 2011: Award Of Excellence
LA Comedy Fest 2011: Best Ensemble