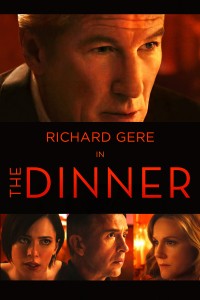 Drama, Thriller

Beschikbaar voor VOD: 16 augustus 2018

Regie: Oren Moverman

Cast: Richard Gere (An Officer and a Gentleman, Pretty Woman, Arbitrage, The Second Best Exotic Marigold Hotel ), Steve Coogan (The Trip to Spain, The Other Guys), Laura Linney (Nocturnal Animals, Sully), Rebecca Hall (The Town, Frost/Nixon), ChloŽ Sevigny (Antibirth, The Snowman)
Twee vervreemde broers Stan (Richard Gere) en Paul (Steve Coogan) en hun echtgenoten Katelyn (Rebecca Hall) en Claire (Laura Linney) gaan een avond uit eten in een trendy restaurant. Ze praten over alledaagse dingen maar vermijden ondertussen de olifant in de kamer, de vreselijke misdaad die hun twee 16 jarige zonen samen hebben begaan.
Hoewel de identiteit van hun zonen nog niet is ontdekt en wellicht nooit aan het licht zal komen, zullen ze deze avond moeten beslissen over de toekomst van hun eigen kinderen.Naarmate de avond vordert, onthult elk persoon hoever ze bereidt zijn te gaan om degenen te beschermen waar ze van houden.
Gebaseerd op de bestseller van Herman Koch.
Reviews
Variety.com: Moverman balances the potential for staginess with his flowing cinematic bravura; he keeps surprising you, and he gives the drama a dash of poison elegance.
The Playlist.net: This is a film that glories in juxtaposition, as exchanges of bestial ferocity hiss back and forth in an excruciatingly elegant destination restaurant, and as poisonously feral barbs are traded across a table laden with elaborately effete hors d'oeuvres.
TheWrap.com: At once a darkly comic social satire, a pitch-black moral thriller and an earnest plea to recognize mental illness, The Dinner is a seven-layer dip overflowing with compelling individual ingredients.
Urbancinefile.com.au: All the performances are astonishing. This is an outstanding piece of cinema, provocative and insightful, filled with metaphor and the recognisable flaws of humanity and the world today, yet far from bitter.
Blu-ray.com: The film delivers on both emotional and perhaps especially moral grounds, exposing the traumas experienced by a quartet who can't even decide what the right thing to do is, let alone doing it.
TheIndependentCritic.com: The Dinner is a riveting adult drama that will have you replaying the film over and over again in your mind as you search for the meaning of it all and come face-to-face with the uncomfortable truths.
WeGotThisCovered.com: An imperfect but fascinating film, The Dinner's stellar cast delivers a deeply troubling and psychologically complex treatment of class and family.