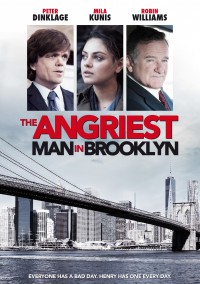 Release:
16 september 2014

Director:
Phil Alden Robinson (The Sum of All Fears, Field of Dreams, Sneakers)


Cast:
Melissa Leo (Flight, Oblivion, The Fighter)
James Earl Jones (Clear and Present Danger, Cry, the Beloved Country)
Peter Dinklage (Game of Thrones, The Chronicles of Narnia, The Station Agent)
Mila Kunis (Ted, Jupiter Ascending, Friends with Benefits, Black Swan)
Robin Williams (Jumanji, One Hour Photo, Night at the Museum)


Year: 2014





A Première TV Distribution Release
Collectie: 6 van 45
The Angriest Man In Brooklyn
SYNOPSIS
Some people have bad days. Henry Altmann (Williams) has one every day. Always unhappy and angry at the world including everyone in it, Henry sits impatiently at the doctor's office when he is finally seen by Dr. Sharon Gill (Kunis). Sharon, who is enduring her own bad day, reveals that Henry has a brain aneurysm. This news makes Henry even angrier, yelling at Sharon he demands to know how much time he has left. Faced with Henry's anger and insults, Sharon abruptly tells him he has only 90 minutes. Shocked and reeling by this news, Henry storms out of the office leaving Sharon stunned by what she has just done in a lapse of judgment. As Sharon goes on a city-wide search, Henry struggles with his diagnosis, determined to make amends with everyone he has hurt in his life.
REVIEWS
Moviemeter.nl: Zelfs in een periode dat depressies hem verscheurden wist hij de rol van een man die op het punt staat dood te gaan met kolder te vervullen.
MoviesMoveMe.com: This film has an incredibly talented cast that transformed this film into a huge success.
Newsblaze.com: The Angriest Man In Brooklyn has a whole lot more on its mind than hysterical end of life antics simply for laughs. Williams impresses mightily with a turbulent tide of conflicting emotions, as a man with deep seated resentment against the world and everybody around him.
Screenspotlight.com: The Angriest Man in Brooklyn is the kind of movie that can easily delight audiences if they give it their full attention.
DOWNLOADS
You need to be logged in to access this information.
.