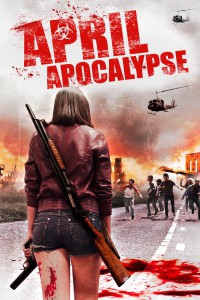 Release:
6 januari 2015

Regie:
Jarret Tarnol


Cast:
Reece Thompson (The Perks of Being a Wallflower, Assassination of a High School President, Daydream Nation)
Rebekah Brandes (Nothing Left to Fear, Bellflower)
Sarah Hyland (Modern Family, Cougars Inc.)
Matt Prokop (Cougar Hunting, Furry Vengeance, High School Musical 3: Senior Year)
Brent Tarnol (Project X)
Matt Shively (Paranormal Activity 4)


Jaar: 2013





A Première TV Distribution Release
Collectie: 7 van 45
SYNOPSIS
Iedereen herinnert zich zijn eerste dolle verliefdheid, zijn eerste kus, zijn eerste liefdesverdriet, zijn eerste... zombieplaag?!?
Nadat hij eindelijk al zijn moed heeft bijeengeraapt om het hart van zijn droommeisje April te veroveren, rijdt Artie (type sukkel) zijn auto in de prak en ontwaakt hij pal in de Zombie Apocalypse. Maar zijn liefde voor April inspireert de loser van weleer tot grootse daden en voor hij het weet, ontpopt Artie zich tot een meedogenloze zombiekiller. Er is maar één probleempje. Artie is zelf gebeten... Kan hij April redden voor hij zelf een breindode zombie wordt?
REVIEWS
BIFFF.net: You didn't think that with a title like April Apocalypse we would pass by on this zombie feast! Young directing talent Jarret Tarnol (Barrio Tales) sticks to the holy trinity of the genre: gore, sex and fun. And with the lovely Rebekah Brandes (Bellflower) tickling our senses, you'd wish it'd stay April forever!
Listal.com: The ending was incredible and made my jaw hit the floor. What a great little hidden gem of a zombie movie. I really liked it especially due to the ending. I recommend it for any fans of the zombie genre.
DOWNLOADS
Je moet ingelogd zijn om deze informatie te bekijken.
.