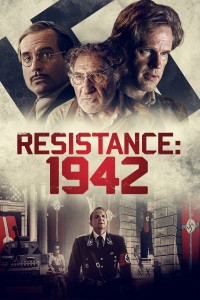 Release:
28 april 2021

Director:
Matthew Hill
Landon Johnson


Cast:
Cary Elwes (The Princess Bride, Saw)
Jason Patric (In the Valley of Elah, Narc, The Prince)
Mira Furlan (Space Command)
Judd Hirsch (Uncut Gems, A Beautiful Mind)


Year: 2021





A Première TV Distribution Release
Collectie: 2 van 3
SYNOPSIS
It's 1942, and France is under Nazi control. The Allies have been pushed off the continent, and their defeat in North Africa seems likely. The nazi's victory is nearly absolute. Deep within this heinous shadow, a man names Jacques uses a radio to broadcast a message of hope. Unbeknownst to him, the formidable Gestapo Hauptmann, Klaus Jager, has been dispatched to catch the illegal broadcast. As Klaus closes in, Jacques, his daughter Juliet, a small group of other dissidents, must learn to trust the kindness of a stranger if they are to stay ahead of their pursuer. And in the end, that trust may turn out to be the very thing that leads the hunter to his prey.
REVIEWS
TheGuardian.com: As written here, the ambiguous Andre – who channels Nazi money – is a much more interesting character; a kind of Oskar Schindler lite. Patric's inscrutable performance recedes intriguingly.
Intoscreens.com: Directors Matthew Hill & Landon Johnson, along with writer Jonah Hirsch weave an inspirational story of how the kindness of a perfect stranger can save two families from a cruel world filled with ignorance. With solid performances from the entire cast, this film works as a reminder on how you should never give in to tyranny and always go down swinging.
DOWNLOADS
You need to be logged in to access this information.
.