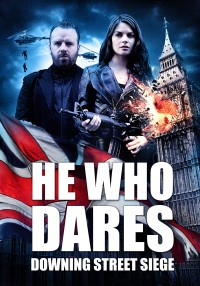 Release:
24 augustus 2015

Regie:
Paul Tanter


Cast:
Ryan Winsley (Kruistocht in Spijkerbroek, Piggy)
Russell Kilmister (The Meaning Of Live, Secret State)
Tom Benedict Knight (Kick-Ass 2, White Collar Hooligan 2: England Away)
Simon Phillips (He Who Dares)


Jaar: 2014





A Première TV Distribution Release
Collectie: 76 van 148
He Who Dares - Downing Street Siege
SYNOPSIS
Na de gebeurtenissen in He Who Dares wordt elitesoldaat Christopher Lowe naar 10 Downing Street, het hart van de Britse politiek, ontboden. Omdat hij een direct bevel negeerde, wordt hij oneervol ontslagen uit de SAS, ook al redde hij met zijn actie het leven van de dochter van de Premier. Intussen blijft Holt, de ontvoerder, voortvluchtig nadat hij uit een zwaarbewaakt ziekenhuis wist te ontsnappen. Is het toeval dat 10 Downing Street precies op dat moment wordt overvallen door een vertrouwde vijand? Helaas beschikt Christopher Lowe dit keer over steun noch wapens en hebben zij die hij wilde helpen, zich tegen hem gekeerd. Maar dat deert hem niet. Lowe geeft zich niet zomaar gewonnen. Zijn motto blijft: Vechten. Doden. Winnen.
Bloedstollende actiethriller met Tom Benedict Knight (Kick-Ass 2, White Collar Hooligan 2: England Away), Ryan Winsley (Kruistocht in Spijkerbroek, Piggy), Russell Kilmister (The Meaning Of Live, Secret State) en Simon Phillips (He Who Dares).
REVIEWS
Themoviewaffler.com: He Who Dares: Downing Street Siege has its niche target audience so tightly in its crosshairs, and caters exclusively and gleefully to it.
DOWNLOADS
Je moet ingelogd zijn om deze informatie te bekijken.
.