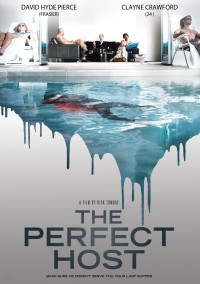 Release:
1 oktober 2011

Director:
Nick Tomnay


Cast:
David Hyde Pierce (Frasier)
Clayne Crawford
Nathaniel Parker


Genre:
Thriller


Year: 2010





A Première TV Distribution Release
SYNOPSIS
Injured after committing a bank robbery, John Taylor is desperate to find a place to hide out and approaches the home of Warick Wilson. John manages to get himself invited into the house by posing as a friend of a friend and spinning a sob story of lost luggage and a violent mugging. Inside, Warick, a consummate host, is making the final preparations for an impeccable dinner party. He insists John stay for the party, but as the evening begins it becomes obvious Warick may not be what he first appears.
REVIEWS
DeNachtvlinders.nl: Hyde Pierce is briljant als de gesoigneerde, maar zwaar gestoorde, Warwick.
Sundance.bside.com: Outstanding performances, takes us on a suspense-filled ride where nothing is as it seems.
Cinemaniablog.com: One of the best films of the Sitges 2010.
AWARDS
Silver Scream Award - Amsterdam Fantastic Film Festival 2011
DOWNLOADS
You need to be logged in to access this information.
.