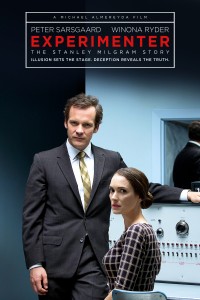 Release:
22 augustus 2016

Director:
Michael Almereyda (Cymbeline, Hamlet)


Cast:
Peter Sarsgaard (Black Mass, The Killing, Blue Jasmine, Jarhead)
Winona Ryder (Black Swan, Homefront, The Iceman, Edward Scissorhands)
John Leguizamo (The Lincoln Lawyer, John Wick, Kick-Ass 2, Ride Along)
Kellan Lutz (Twilight Saga, The Expendables 3, Immortals)
Anthony Edwards (ER, Top Gun, Zodiac)


Genre:
Drama


Year: 2015





A Première TV Distribution Release
SYNOPSIS
Based on the real events…
Yale University, 1961. Dr. Stanley Milgram PhD, designs a psychology experiment in which people think they're delivering electric shocks to an affable stranger strapped into a chair in another room. Subjects are told it's about memory, but the experiment is really about conformity, conscience, and free will.
Dr. Milgram is trying to come to terms with the Holocaust and to test people's tendency to comply with authority. The experiment yields disturbing results: 65 per cent of Dr. Milgram's subjects deliver voltage that may be fatal, obeying polite commands from a lab-coated authority figure .
When working at Harvard, his obedience findings are announced in the New York Times. He is accused of being a deceptive, manipulative monster. Dr. Milgram re-ignites debate with his 1974 book, OBEDIENCE TO AUTHORITY. With the support of his wife he continues to fight distortions of his work, which includes a made-for-TV movie starring William Shatner.
EXPERIMENTER'S tone is celebratory, and the film's style will be as playful and provocative as a Dr. Milgram experiment, with our protagonist often talking directly to the camera.
What would you do? is the underlying theme of major Dr. Milgram research. He spent his life exploring how to adjust and transcend pre-programed behavior. EXPERIMENTER will show how Dr. Milgram's conscience and his creative spirit continue to be resonant, and inspire us.
REVIEWS
De Volkskrant (vier sterren): Het is knap dat de film ondanks de opzettelijke kunstgrepen evenwichtig blijft en nooit in pretenties ontspoort. Prikkelend eerbetoon. Milgram-biopic is ongewoon en intrigerend. Lees het hier.
Trouw (vier sterren): Experimenter is het fascinerende portret van Stanley Milgram, sterk gespeeld door Peter Sarsgaard.
Vier sterren in de NRC: Originele biopic. Lees de review hier.
Biosagenda: Intelligente en speelse film, vier sterren! Lees de hele review hier.
De Filmkrant heeft Michael Almereyda geinterviewd, lees het hier. En geeft de film maar liefst 4.5 sterren!
De Filmkrant: Films over wetenschappers drukken de wetenschap meestal naar de zijlijn, en zoeken het drama in het persoonlijke. Michael Almereyda bewijst met Experimenter, een eigenzinnige biografie van socioloog Stanley Milgram, hoe zonde dat is.
Lees de hele recensie hier.
Filmkijker.com: Sarsgaard is goed in zijn rol, maar ook Winona Ryder die zijn vrouw Sasha speelt is een plezier om naar te kijken. De manier waarop Experimenter het verhaal uit de doeken doet is opvallend en dan met name de vorm waarin. Milgram praat regelmatig direct tegen het publiek en achtergronden zijn soms simpele zwart wit foto's in plaats van echte sets, waardoor de film een kunstmatige uitstraling krijgt die goed bij het onderwerp past. Als kijker ben je daardoor meer betrokken en vraag je jezelf ook af wat jij bij zo'n experiment zou doen. Ben je sterk genoeg om nee te zeggen of ga je gehoorzaam verder? Welke factoren spelen bij die keuze een rol? Verlies je jezelf in zo'n situatie of kan je het relativeren? Experimenter weet een belangrijk onderzoek op fascinerende wijze tot leven te brengen. Lees de hele recensie hier.
Variety.com: Experimenter offers a heady brew of theories about the essence of human nature, and a Peter Sarsgaard performance that catches Milgram in all his seductive, megalomaniacal brilliance.
TheHollywoodReporter.com: Technically puckish where appropriate but grounded by strong performances from Peter Sarsgaard and Winona Ryder, the film is not awards bait but makes some Big Thinker biographies that are look staid. It seems certain to be the deliberately fringe-dwelling auteur's most commercially successful film, and may be his most aesthetically satisfying one as well.
New York Times: Among the most original selections (Sundance) this year are Michael Almereyda's "Experimenter," a conceptually exciting, intellectually searching portrait of the social psychologist Stanley Milgram (a superb Peter Sarsgaard), whose famous 1960s obedience experiments. Mr. Sarsgaard, occasionally addressing the camera and sometimes accompanied by an elephant that materializes in the room, delivers a forceful yet intimate performance that expresses his character's sincerity and the sinister undertow of his methods. Sundance could use more movies, like "Experimenter," that are adventurous in form and thought, not just in subject.
New York Magazine: Experimenter is uncannily beautiful. Milgram talks to us, shows us things. He puts his work in historical context. He expounds on the role of obedience in turning individuals into instruments of the state — as in Nazi Germany. The word reflective suggests a slowdown or cessation of action proper, but Experimenter is busily, thrillingly reflective. Its artificiality makes it seem even more alive, more in the present tense.
TheGuardian.com: Sarsgaard stars in this smart and unsettling exploration of Stanley Milgram's questionable experiment testing people's allegiance to malevolent authority, and potentially exposing the dark heart of mankind.
Villagevoice.com: The movie is itself a rat-maze of one-sided mirrors, windows upon windows, anonymous hallways, compartmentalized instances of watching, being watched, seeing and not-seeing.
Screendaily.com: Almereyda has created an experiment of his own: a kind of cinematic Rorschach test, prodding viewers to consider what they would do if sitting in the same seat as Milgram's subjects. Ultimately, Almereyda's smartly written script attempts to make up for its lack of traditional dramatic elements with continuous questions about Milgram's - and everyone's - ability to make a choice in society. These queries, about choice, will and morality, form the backbone of Experimenter, a film that, like the best of science, asks questions it can't always answer.
Sean Axmaker, Parallax View: The committed work of Anthony Edwards, John Leguizamo, Anton Yelchin, Taryn Manning and others as the test subjects provides some of the most gripping and discomforting profiles in human anxiety and willing resignation to authority. And the contrast with the odd, almost forced joviality of Milgram's team (Jim Gaffigan, Edoardo Ballerini, Winona Ryder) makes it all the more lacerating. And that doesn't even begin to address the Twilight Zone debate over test morality with Dennis Haysbert and Kellan Lutz as alternate universe versions of Ossie Davis and William Shatner. I put this ensemble up against all that have been awarded by critics groups or nominated by the Screen Actors Guild.
DOWNLOADS
You need to be logged in to access this information.
.