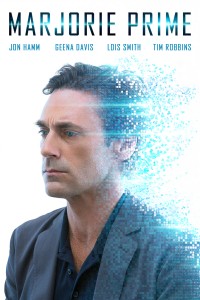 Release:
13 september 2018

Director:
Michael Almereyda (Cymbeline, Hamlet)


Cast:
Jon Hamm (Mad Men, Baby Driver, Keeping Up with the Joneses)
Geena Davis (Grey's Anatomy, Stuart Little, Thelma & Louise)
Tim Robbins (The Shawshank Redemption, Thanks for Sharing, War of the Worlds)
Lois Smith (Dead Man Walking, The Nice Guys, Falling Down)


Genre:
Drama


Year: 2017





A Première TV Distribution Release
SYNOPSIS
In the near future, a time of artificial intelligence: 86-year-old Marjorie, a jumble of disparate, fading memories, has a handsome new companion who looks like her deceased husband and is programmed to feed the story of her life back to her. What would we remember, and what would we forget, if given the chance?  Marjorie Prime is based on Jordan Harrison's Pulitzer-nominated play, exploring memory and identity, love and loss.
Download the Press Notes here.
REVIEWS
VPROCinema.nl: Lois Smith, die ooit in 1955 debuteerde naast James Dean in East of Eden, speelt in Marjorie Prime één van de mooiste rollen uit haar roemrijke carrière. En regisseur Almereyda schetst, zonder op het sentiment te spelen, een prachtig en ontroerend verhaal over de dood, en hoe technologie ons kan helpen met het verlies van een dierbare om te gaan.
NRC/nrc.nxt: Een van de interessantere onafhankelijke filmmakers uit Amerika - Hypnotiserend - Nietsontziende bijdrage aan het filosofische debat over hoe we anno nu met de waarheid omgaan.
Het Parool: Een vernuftig modern spookverhaal zonder schrikeffecten.
Trouw: Intelligent, warmbloedig drama (over rouw en de schoonheid én chaos van herinneringen) - Gracieus Kammerspiel - Slim geschreven dialogen - Mooi mijmerende film over liefde, leven en sterfelijkheid.
De Volkskrant: In al zijn kalmte is het intrigerende Marjorie Prime een film die niet alleen tot nadenkenstemt, maar ook ontroert. De film valt vooral op door zijn intimiteit en heeft een concentratie en focus die je in het sfgenre zelden aantreft - Stemt tot nadenken.
RogerEbert.com: "Marjorie Prime" is so beautifully and consistently focused on the human. Chief among the film's pleasures is watching the exemplary work of the actors who embody those people. Almereyda's script is very sharp, belongs to a category that also includes "Eternal Sunshine of the Spotless Mind," "Her," "Ex Machina" and "A.I. Artificial Intelligence".
Vulture.com: The sci-fi chamber drama Marjorie Prime is exquisite — beautiful, intense, shivering with empathy.
Variety.com: Davis, in particular, is stoically heartbreaking as a woman who feels increasingly alone in processing and preserving the least pleasant chapters of her past, as well as her mother's, while Smith captures dementia's rapidly alternating moods of panic, placidity, and fleeting, absolute presence with a wry precision that should resonate with viewers who have had to live beside it.
Empireonline.com: Michael Almereyda's film shares some of the brainy, out-there qualities of his earlier work (Nadja, Hamlet) but finds a warmth rare in his filmography. It's a restrained, artful look at memory, loss (and memory loss) and the way we use machines to feel more human. It's a bit like Spike Jonze's Her, or an episode of Black Mirror if Charlie Brooker traded in empathy, but Marjorie Prime occupies a unique space all of its own. A high-concept idea with a low concept approach, Marjorie Prime is cerebral, talk-driven sci-fi lit up by a compelling exploration of big ideas and across-the-board strong performances from the small cast (especially Smith). A treat for the brain and soul.
Efilmcitic.com: There are clear act breaks that in some ways reset the story when they occur, and the multiple iterations without clear progress could make it a drag, but in this case it pushes the audience to ponder rather than guiding them in a particular direction. It leads to a pair of final scenes that are mesmerizing in contrast, one thoroughly human and sad but emotionally loaded, the other featuring AI and, though it revisits references and themes from throughout the film, it is utterly alien and seeming to push in opposite directions, at least from human perspective.
Slantmagazine.com: Mapping the intersection between history and emotion, Michael Almereyda finds himself in Alain Resnais terrain.
TheHollywoodReporter.com: Even at its most sorrowful, Marjorie Prime is suffused with warmth, the core of it emanating from Smith in two complementary iterations of the same character.
TheVerge.com: Marjorie Prime is superbly acted, and it's certainly interesting. Hamm strikes a wonderful balance as a talking re-creation that feels almost human, and the rest of the cast is equally nuanced.
TheGuardian.com: Programming a prime begins to resemble the heartrending business that many carers of dementia sufferers have to go through: having to teach their elderly loved ones who they were and are – having to reconstruct their identities. A potent, and well-developed feat of imagination.
NYTimes.com: Mr. Almereyda (whose 2015 film, "Experimenter," was an underseen beauty) is a seasoned cinematic spellbinder. He doesn't do much to open up Mr. Harrison's theatrical work, confining it for the most part to an elegant, mysterious beach house, one that, paradoxically enough, contains no visible high-tech devices. When you try to break down how he achieves his seductive magic with respect to this narrative, it all looks, initially, like nothing more than good cinematic common sense. The key is what he does on the sly: the way his subtle shifts of focus within a shot don't just change the emphasis of the scene, but mirror quirks of consciousness. There's more going on in this movie's 90-plus minutes than in many summer blockbusters nearly twice its length.
RottenTomatoes.com: Critics Consensus: Intimate in setting yet ambitious in scope, the beautifully acted Marjorie Prime poses thought-provoking questions about memory, humanity, and love.
AWARDS
Sundance Film Festival 2017 - Alfred P. Sloan Feature Film Prize
DOWNLOADS
You need to be logged in to access this information.
.