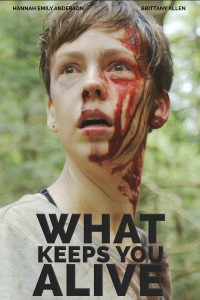 Release:
20 december 2018

Director:
Colin Minihan (Grave Encounters 1 & 2)


Cast:
Brittany Allen (Jigsaw, Bomb Girls, Dead Before Dawn)
Hannah Emily Anderson (Jigsaw)
Martha MacIsaac (Superbad, The Last House on the Left)
Joey Klein (Painless)


Year: 2018

A Première TV Distribution Release
SYNOPSIS
On the eve of their one year wedding anniversary, Jules and Jackie become embroiled in a merciless fight for their lives when they find themselves pitted against the most unexpected of adversaries: each other. As violence rains down upon their idyllic forest getaway, the women engage in a frenzied psychological and vicious battle that will test the very limits of their instinct to survive.
WHAT KEEPS YOU ALIVE is a knife to the throat of 21st century genre cinema, featuring the stars of 2017's reinvigorated franchise juggernaut, JIGSAW. From the mind of Colin Minihan, director of GRAVE ENCOUNTERSand IT STAINS THE SANDS RED.
REVIEWS
RogerEbert.com: The best of the four is Colin Minihan's What Keeps You Alive, a film with a truly clever turn in that it starts feeling like it's taking the audience in one direction and then takes a sharp right angle into something else entirely.
GlideMagazine.com: A psychologically harrowing, intense film that grabs on tight and never lets go. Alternately heartbreaking and terrifying, Minihan has emerged as a potential master of horror and suspense. Then tension builds to a relentless, gut wrenching level as more and more twisted secrets are revealed and the film rockets towards its conclusion.
Theverge.com: The film makes a strong argument for the value of artistry in horror. Stark colors and an active camera, chasing or leading the characters, give the whole film a sense of intensity and dynamism. Terrific leads and a dedication to memorable imagery keeps What Keeps You Alive fresh.
Theplaylist.net: Colin Minihan's absolutely gorgeous thriller is best seen with as little knowledge of its plot as possible, but it drops hints about what's coming in both dialogue and mood well before the ax falls - and the blood splatters. An incredibly beautiful and brutal horror film.
Culturecrypt.com: The "Black Rock" meets "Single White Female" vibe of "What Keeps You Alive" makes it one of the best in show for its category, as consistently appears to be the case when Colin Minihan's team is involved.
Bloody-Disgusting.com: What Keeps You Alive is a solid thriller that works more often than it doesn't thanks to the performances of Anderson and Allen. Those, combined with Minihan's skilled direction, make for one of the better survival horror films to come out recently. A tense and Darkly Humorous Tale of Betrayal.
Dreadcentral.com: Undeniably tense with electrifying performances from both Allen and Anderson. What Keeps You Alive is a captivating and unsettling reminder that true love may not always be a two-way street.
DOWNLOADS
You need to be logged in to access this information.
.