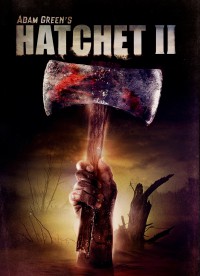 Release:
2 juli 2013

Director:
Adam Green


Cast:
Danielle Harris (Cyrus, Halloween)
Kane Hodder (Hatchet I-III, Friday the 13th 7-9)
Tony Todd (The Man from Earth, The Rock)
Ed Ackerman (Frozen, The Change-Up)


Genre:
Horror


Year: 2010





A Première TV Distribution Release
SYNOPSIS
Hatchet 2 picks up at the exact moment that 2006's Hatchet ends, wherein the quiet but hot-tempered Marybeth (Danielle Harris) is in a small boat in the Louisiana swamps, screaming for her life as she tries to free herself from the clutches of the deformed, swamp-dwelling killer Victor Crowley (Kane Hodder). Crowley has murdered Marybeth's family and other fellow vacationers who had come together on a tourist excursion in the swamplands outside of New Orleans. Marybeth escapes from Crowley and manages to make it back to civilization, where she once again encounters voodoo shop proprietor Reverend Zombie (Tony Todd), who had helped to arrange Marybeth and company's earlier, ill-fated tour of the area. To help Marybeth and also serve his own secret agenda, Reverend Zombie recruits a hardened pack of hunters to head back into the swamp to seek revenge on Victor Crowley.
REVIEWS
DVDVerdict.com: Based solely on the kills, this would be in the upper echelon of slasher films. The deaths are clever, funny, and well-executed, and as a fan of the genre I often found myself smiling, laughing, or exclaiming during the killing moments
FilmcriticsUnited.com: one of the most bloodily violent movies around. And I think that was the point. Point well taken.
The New York Times: Swift and amusingly brainless, Hatchet II more than delivers on splatter expectations.
Variety.com: Outrageously over-the-top gore doubtless will scare off all but the heartiest genre aficionados.
The Hollywood Reporter: Hatchet II earns bragging rights with buckets of giddily over-the-top blood 'n' guts in sequences that are as gratuitous as they are amusingly ridiculous.
Fearnet.com: Hatchet 2 is a lot of fun ... tailor-made for hardcore horror fans who miss the old-school slasher flicks, but certainly enjoy it when 'one of our own' heads back to the well for some gore, mayhem, and carnage.
Boxoffice.com: Green's craft cuts deep--he's a smart, brutal puppet master who knows the power in his strings.
DreadCentral.com: Hatchet II is twice the gore, twice the intensity, twice the fun, love and balls-out craziness of the original.
Eyeforfilm.co.uk: a winning love letter to the splatter-slasher (splasher?) flicks of yore.
DOWNLOADS
You need to be logged in to access this information.
.