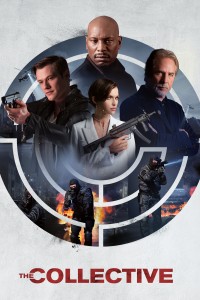 Release:
21 september 2023

Director:
Tom DeNucci


Cast:
Don Johnson (Miami Vice, Django Unchained. Machete)
Lucas Till (X-Men saga, MacGyver)
Ruby Rose (Orange is the New Black, John Wick 2)
Tyrese Gibson (Fast & Furious saga, Morbius)


Genre:
Action


Year: 2023





A Première TV Distribution Release
SYNOPSIS
In this high-octane action thriller, an elite group of secret agents called "The Collective" operates in the shadows of the international underworld. Headed by Liam James (Don Johnson, Knives Out, Django Unchained, Miami Vice), the group's newest recruit is Sam Alexander (Lucas Till, MacGuyver, X-Men: Days of Future Past), a former District Attorney disillusioned by the justice system. Sam's first assignment is to rendezvous with in-hiding Collective member Hugo Fredericks (Tyrese Gibson, the Fast & Furious franchise, Transformers, Morbius). Together, their mission will be to take down a human trafficking ring--fronted by the vicious Daisy (Ruby Rose, The Meg, John Wick Chapter 2, SAS: Red Notice)--that has nabbed a government whistleblower and set him on an auction block for the highest bidder. If the Collective agents are unable rescue their asset in time and his intel falls into the wrong hands, their failure will have perilous consequences and send shockwaves across the globe.
REVIEWS
Aarttvreview.blogspot.com: a solid thriller that doesn't venture into groundbreaking territory, but delivers the action and excitement viewers are looking for.
Cailloupettismoviereviews.com: The action sequences are skillfully executed.
DOWNLOADS
You need to be logged in to access this information.
.