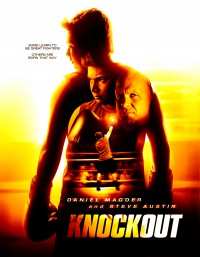 Release:
4 december 2012

Director:
Anne Wheeler (Better Than Chocolate)


Cast:
Steve Austin (The Expendables)
Daniel Magder (Life with Derek)
Janet Kidder


Year: 2011





A Première TV Distribution Release
SYNOPSIS
Disney star Daniel Magder ('Life with Derek') stars as an unpopular teenager in High School who forms a special relationship with the school janitor, played by Steve Austin ('The Expendables'), who trains him to compete for a boxing championship against the school bully. What ensues is a Rocky-esque tale of a young boy who is different forcing everybody to change their preconceived notions of who he is and what he's capable of.
REVIEWS
Blu-ray.com: Knockout is a fine film. It's the sort of movie destined to succeed through heart and message.
FilmCriticsUnited.com: If let you your guard down for just a minute you will get swept up.
UpComingDiscs.com: the movie warmed me up and put out a lasting finish full of charm and heart.
DOWNLOADS
You need to be logged in to access this information.
.