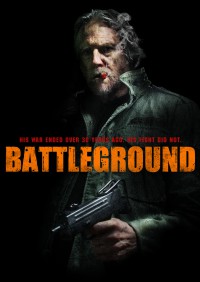 Release:
9 oktober 2012

Director:
Neil Mackay


Cast:
Bryan Larkin (Outpost 3)
Hugh Lambe
Robert Nolan
Bob Cymbalski


Genre:
Action


Year: 2011





A Première TV Distribution Release
SYNOPSIS
Six bank robbers become stranded in a off the grid forest when their vehicle goes missing during the planning of their escape from the police. Now stranded and on a time crunch to make their flight headed out of the country they try to walk out of the forest. they soon encounter Hugh Lambe as a Vietnam veteran who was mentally damaged somehow in during the conflict and now kills anyone who enters his forest using his military training and some tactics used by the VietCong. At first the bank robbers do not seem to know who they are dealing with, the training and experience their adversary has, but they soon figure it out.
REVIEWS
Flickermagazine.co.uk: a tense, thrilling journey of shocks, suspense and stealth.
Horrornews.net: Neil Mackay has created a solid winner of an action packed thriller.
Bzfilm.com: I enjoyed this little flick. There's enough action, some good thrills and twists (especially the one at the end), and overall a very solid movie.
Twitch: Very entertaining and well made action/survival film.
DOWNLOADS
You need to be logged in to access this information.
.