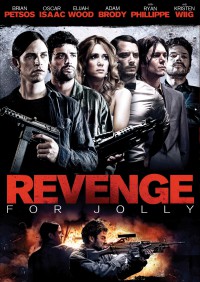 Release:
1 januari 2014

Director:
Chadd Harbold


Cast:
Brian Petsos (Girl Most Likely)
Oscar Isaac (Inside Llewyn Davis)
Elijah Wood (The Lord of the Rings, The Hobbit, Sin City)
Ryan Phillippe (Shooter, The Lincoln Lawyer, Crash)
Kristen Wiig (Bridesmaids, Anchorman: The Legend Continues, Paul)
David Rasche (Men in Black 3, Sledge Hammer!, Burn After Reading)


Year: 2012





A Première TV Distribution Release
SYNOPSIS
A man (Brian Petsos), with the help of his cousin (Oscar Isaac), seeks to avenge the death of his beloved dog Jolly, who was killed under suspicious circumstances.The two men follow a series of clues in an attempt to track down Jolly's murderer, leaving a path of destruction in their wake.
REVIEWS
AVClub.com: Revenge For Jolly! is often corrosively dark and incredibly bloody, but there's a powerful sincerity at its core. It is, without a doubt, the most unexpectedly poignant movie ever made about a silly little dog. Quite good.
DVDTalk.com: a fascinating one, filled with a talented cast in bit parts and aiming for a very subtle type of dark comedy.
Flixist.com: I really enjoyed the film. It's funny, it's violent, and it's got revenge.
Soundonsight.org: Revenge for Jolly! is distinctively entertaining. It has in its corner a very impressive catalogue of comedic actors (including Kristin Wiig, Gillian Jacobs, and Adam Brody, among others), and they bolster the production value with moments of berserk antics and intense energy. It also offers a consistent stream of laughs, two barbaric but charming anti-heroes, and the most outrageous excuse for shameless brutality that nearly anyone can get behind. For those who like to mix their dark comedy with over-the-top action, this film was made with you in mind.
DOWNLOADS
You need to be logged in to access this information.
.