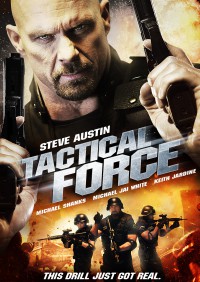 Release:
15 mei 2012

Director:
Adamo P. Cultraro


Cast:
Steve Austin (The Expendables)
Michael Jai White (The Dark Knight)
Michael Shanks


Genre:
Action


Year: 2011





A Première TV Distribution Release
SYNOPSIS
The story of Captain Frank Tate and his squad, who are on a routine training exercise on a sprawling 4700 acre military base. On the base sits the forlorn Hangar 14, a massive million square foot airplane hangar complete with three story office complex, decommissioned in the late nineties. It's the perfect venue for the team; close to home yet remote enough to allow them to fire indiscriminately without attracting attention. Unfortunately, the base is home to a hidden item that two warring criminal factions are looking for.... The SWAT team descends upon the building with fervor, completing their blank firing training mission, as, unbeknownst to them, two groups of criminals have arrived in a hunt to find the item before the other: Attracted by the sound of gunfire in a different part of the massive structure, they soon locate the expended ammunition casings and quickly determine that the police are firing blanks. They decide to join forces to achieve a common goal: The SWAT Team must not make it out of Hangar 14 alive. The next harrowing hours find the SWAT Team scrambling to survive virtually unarmed, with no communications or backup and only their wits to keep them one step ahead of the criminals determined to make Hangar 14 their final resting place.
REVIEWS
CoolAwesomeMovies.com: To wrap this up, 'Tactical Force' will satisfy most DTV action aficionados.
TheOtherView.com: a fun flick with loads of action and a few chuckles.
MovieMoxie.blogspot.com: Overall, Tactical Force was tons of fun. The action is great.
Mediamikes.com: it is a strong action film ... packs some decent action and fight scenes.
Bzfilm.com: If you're an action movie fan - watch this.
DOWNLOADS
You need to be logged in to access this information.
.