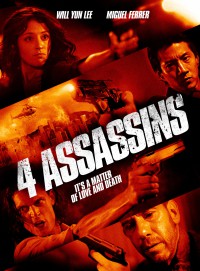 Release:
8 januari 2013

Director:
Stanley J. Orzel


Cast:
Will Yun Lee (Total Recall, The Wolverine)
Miguel Ferrer (Robocop, Traffic)
Mercedes Renard (Hitch)


Year: 2012





A Première TV Distribution Release
SYNOPSIS
In Hong Kong an ace hit man reluctantly meets with three professional colleagues to resolve unfinished business. Over an elaborate meal in a hotel suite, the four highly skilled assassins reminisce about the past and ponder the future. In a tense and highly claustrophobic setting, accusations fly, lines are drawn and secrets are revealed. It all culminates to a brutal exchange and an explosive showdown where no one is safe.
REVIEWS
Cooltarget.blogspot.co.uk: works thanks to the likeable cast and stylish production design .. classier than you might first think and it's always good to see Miguel (Robocop) Ferrer getting a nice meaty part.
AWARDS
Action on Film International Film Festival, USA (2011): Best Fight Choreography, Female Action, Male Action.
WorldFest Houston (2011): Gold Award for Best Supporting Actor and Independent Films - Suspense/Thriller.
DOWNLOADS
You need to be logged in to access this information.
.