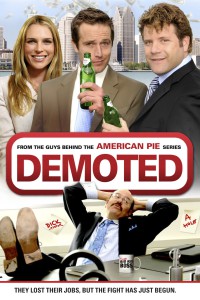 Release:
10 september 2012

Director:
J.B. Rogers (American Pie 2)


Cast:
Sean Astin (The Lord of the Rings, The Goonies)
Michael Vartan (One Hour Photo, Never Been Kissed)
David Cross (Arrested Development, Modern Family)
Constance Zimmer (Chaos Theory, Damaged Goods)


Genre:
Comedy


Year: 2011





A Première TV Distribution Release
SYNOPSIS
Mike (Sean Astin/Lord of the Rings) and Rodney (Michael Vartan/Alias) are two mid-level sales associates at Treadline Tires, who skate by thanks to the good graces of their elderly boss, who has a soft spot for them. But, after a night of hard partying, they wake up to the news that the old guy has died of a heart attack, and their new boss is Castro (David Cross/Arrested Development), the office jerk. They're immediately demoted to the all-female secretarial pool, and forced to put in their first real day of hard work. Completely unequipped for the demands of the job, they suck up their pride and become one of the girls. Now, with the help of their newfound comrades, they will rediscover their work ethic, and embark on a plan to get their old jobs back, restore the dignity of their fellow workers, and more than anything else, get their arch-nemesis Castro demoted!
REVIEWS
MediaMikes.com: The collaborative of Michael Vartan, Sean Astin and David Cross works well and they mesh well. Recommended.
DOWNLOADS
You need to be logged in to access this information.
.