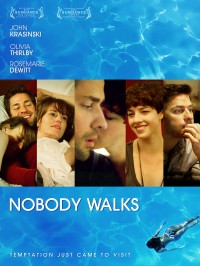 Release:
1 oktober 2013

Director:
Ry Russo-Young


Cast:
John Krasinski (It's Complicated, The Office)
Olivia Thirlby (Dredd, Being Flynn, No Strings Attached)
Rosemarie DeWitt (The Odd Life of Timothy Green, The Company Men)
India Ennenga (Treme, The Women)
Dylan McDermott (The Practice, Olympus Has Fallen, American Horror Story)
Justin Kirk (Weeds)


Genre:
Drama


Year: 2011

A Première TV Distribution Release
SYNOPSIS
Family man and professional sound designer, Peter, agrees to help a sexy aspiring director finish her art film. With a surge of confidence emerging from their collaborative work, Peter succumbs to his desires and the two share a blissful rendezvous. But this new woman's sexual presence affects more than just Peter and his previously tight-knit family begins to unravel.
REVIEWS
Variety.com: A fine cast and [script] give such navel gazing a palatable, commercially viable shape.
DVDTalk.com: Some have complained that Nobody Walks doesn't go anywhere, and it's true that its narrative doesn't follow the expected discovery/blow-up/lesson learned schematic. This is one of its most commendable qualities. Sometimes things happen, and people don't yell and scream and throw things--they deal with them, and then they press on.
Iheartthetalkies.com: A well-crafted drama ... roles are impeccably acted.
DOWNLOADS
You need to be logged in to access this information.
.