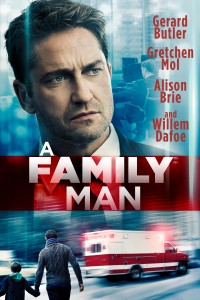 Release:
21 september 2017

Regie:
Mark Williams


Cast:
Gerard Butler (London Has Fallen, 300, The Bounty Hunter)
Gretchen Mol (Manchester By The Sea, Boardwalk Empire)
Willem Dafoe (The Great Wall, The Grand Budapest Hotel, A Most Wanted Man)
Alison Brie (How to Be Single, Mad Men)
Alfred Molina (The Da Vinci Code, Prince of Persia)


Genre:
Drama


Jaar: 2016





A Première TV Distribution Release
SYNOPSIS
Dane Jensen (Gerard Butler - London Has Fallen, 300, P.S. I Love You) is een headhunter. Een dealmaker. Een mannetjesputter die het puikje uit de bedrijfswereld ronselt voor een topfirma in Chicago. Wanneer Danes baas (Willem Dafoe - The Great Wall, The Grand Budapest Hotel, Platoon) zijn pensioen aankondigt, speelt hij Dane uit tegen Lynn Wilson (Alison Brie - How to Be Single, Mad Men), zijn ambitieuze tegenpool. Dan ontdekt Dane dat zijn 10-jarige zoontje Ryan aan een levensbedreigende ziekte lijdt. Plots wordt hij verscheurd tussen het bereiken van zijn professionele droom en zijn gezin, dat hem meer dan ooit nodig heeft.
Schitterend geacteerd en meeslepend drama over ambities, familie en het maken van de juiste keuzes, met uitstekende bijrollen van o.m. Gretchen Mol (Manchester By The Sea, Boardwalk Empire) en Alfred Molina (The Da Vinci Code, Prince of Persia).
REVIEWS
TheHollywoodNews.com: A really rather enjoyable morality tale from debut director Mark Williams, with some brilliant performances and some wonderfully touching moments.
Variety.com: slickly executed.
TIFF.net: The film pulses with the thrill of big money and cutthroat career maneuvering, but its heart is in a very different realm. The film is ultimately concerned with domestic stability in crisis, and with the complex question of what really matters in life. The Headhunter's Calling beautifully illustrates how nearly losing everything can redefine what it means to have it all.
DOWNLOADS
Je moet ingelogd zijn om deze informatie te bekijken.
.