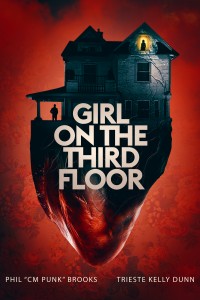 Release:
12 december 2019

Regie:
Travis Stevens


Cast:
C.M. Punk (WWF Smackdown)
Sarah Brooks
Trieste Kelly Dunn (United 93)


Genre:
Horror


Jaar: 2019





A Première TV Distribution Release
SYNOPSIS
Don Koch verhuist naar een Victoriaanse woning die hij zelf wil gaan renoveren. Al snel wordt duidelijk dat hij te veel hooi op zijn vork heeft genomen. Het nieuw huis blijkt een duister verleden te hebben. Rottende muren, slijmerige stopcontacten, bloederige wasbakken en een aantrekkelijk maar niet meer weg te krijgen stalker. Wanneer zijn hoogzwangere vrouw op bezoek komt doet ze een gruwelijke ontdekking…
REVIEWS
Variety: The vengeful spirits in a former bordello prey on the home's new tenants in Travis Stevens' enjoyable horror opus.
RogerEbert.com: A unique vision that satisfies from beginning to gory end.
Film School Rejects: An effectively unsettling horror film about pains caused by monsters who are far too real.
Daily Dead: truly unique and wickedly weird take on haunted house tropes.
Nighmare On Film Street: A chilling, blood drenched haunted house flick.
The Verge: A skin-crawling horror movie about home improvement and hauntings.
Nightmarish Conjurings: Viewers get an ending that they most certainly did not see coming.
DOWNLOADS
Je moet ingelogd zijn om deze informatie te bekijken.
.