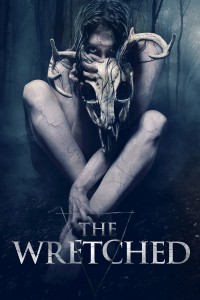 Release:
22 oktober 2020

Regie:
Brett Pierce


Cast:
John-Paul Howard (Hell or High Water)
Piper Curda
Jamison Jones (General Hospital)
Azie Tesfai (Supergirl)


Genre:
Horror


Jaar: 2019





A Première TV Distribution Release
SYNOPSIS
Ben is een rebelse tiener die worstelt met de scheiding van zijn ouders. Terwijl hij de zomer doorbrengt bij zijn vader, ontdekt hij dat de buurvrouw bezeten is door een kwaadaardige entiteit. Een eeuwenoude heks die zich voedt met kinderen. Omdat niemand hem wil geloven, bindt hij ten einde raad zelf de ongelijke strijd aan...
In hun bloedstollende, eigentijdse variant op het klassieke heksenverhaal trekken de gebroeders Pierce geslaagde parallellen tussen de paranoia van een tiener met gescheiden ouders en de angst voor het bovennatuurlijke. Met geloofwaardige personages en indrukwekkende special effects roept The Wretched herinneringen op aan genreklassiekers als Fright Night en Disturbia.
REVIEWS
Denachtvlinders.nl: een lekker vermakelijke horrorfilm.
Filmliefhebber.com: een horrorfilm die vooral uitblinkt in spannende en angstaanjagende fragmenten.
SchokkendNieuws.com: een geslaagde verrassing.
Telegraaf.nl: vlot wegkijkend horrorwerkje.
Movieaddicts.nl: Ik heb nog geen betere horrorfilm in de bioscoop gezien dit jaar.
Variety.com: The film successfully mixes together a lot of things, from the waterfront tourist-town setting of "Jaws" to a general teen fantasy-adventure feel that tempers (without weakening) horror content variably redolent of "It, ""Fright Night" and myriad other predecessors. If originality isn't a strong suit here, the film's conviction and polish make that a minor sin.
28dayslateranalysis.com: Not to be missed, The Wretched provides lots of chills and a great story to entertain film fans. 8/10.
Bloody-disgusting.com: Gruesome makeup effects presents a creepy, monstrous take on a classic witch. One that's deeply submersed in nature and folkloric origins. The Pierce brothers have delivered a new dark fairy tale that the midnight crowds will enjoy.
Culturecrypt.com: "Evil Dead" energy keeps poking into every corner it can. Excellent effects and exceptional sound design make certain that energy burns hot. The Wretched delivers a viciously visceral experience by pounding out grotesque gurgles to go with sick sights like diseased animal guts falling onto the floor.
Dreadcentral.com: Truly unique supernatural concepts and effective scares. The Pierce duo has injected awesome new ideas into the underexplored witchcraft subgenre.

LATimes.com: Equally indebted to Alfred Hitchcock, Steven Spielberg and a mishmash of '80s horror films only the directors themselves could comprehensively name-check, "The Wretched" is a fresh horror film built out of familiar parts.
DOWNLOADS
Je moet ingelogd zijn om deze informatie te bekijken.
.