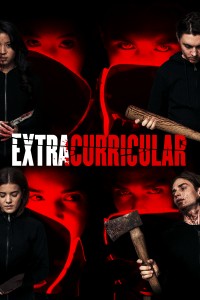 Release:
10 september 2020

Regie:
Ray Xue


Cast:
Keenan Tracey (Bates Motel)
Brittany Raymond
Spencer Macpherson
Brittany Teo
Luke Goss (Hellboy II, Blade II, Death Race II, Blood Out)


Genre:
Horror


Jaar: 2019





A Première TV Distribution Release
SYNOPSIS
Tieners Miriam, Derek, Ian en Jenny zijn modelstudenten. Ze rijgen de tienen aan elkaar, munten uit in sport, spelen in de schoolband en, wanneer ze een gaatje vinden in hun drukke schoolagenda, plannen ze met volle toewijding perfecte moorden. Die ze als echte psychopaten zonder een greintje schuldgevoel uitvoeren. Alles verloopt volgens het boekje, tot een van hun prooien wanhopig terugvecht.
Bloederige thriller vol plotwendingen en morele dilemma's, met Luke Goss (Hellboy II, Blade II, Death Race II, Blood Out) als de agent die het moordzuchtige kwartet probeert te stoppen.
REVIEWS
Horrorcultfilms.co.uk: Very good film, and one that's sure to be a conversation starter.
Cultprojections.com: Like a cross between The Strangers and The Craft this murderous thriller does a great job at taking a far-fetched premise and running with it, providing solid, believable performances, and some genuinely suspenseful scenes, with a third act that ups the crazy ante. These kinds of teenagers-run-amuck thrillers are a dime a dozen, but Extracurricular is a cut well-above.
Darkeyesoflondon.blogspot.com: But it's good to see a post modern horror movie that doesn't play it for laughs or irony, and the moral dilemma running through Extracurricular is persuasive enough, even if one does ending up rooting for the killers and then feeling slightly dirty about it afterwards.
Diaboliquemagazine.com: Director Ray Xue shows a strong flair for helming thrilling action sequences and gets solid performances out of his game cast.
Entertainment-focus.com: An undeniably chilling watch.
Eyeforfilm.co.uk: It's fast paced, witty and sometimes sexy, a seductive package with a deceptively smart core.
Filmschoolrejects.com: Extracurricular is a fittingly mean-spirited little movie that refuses to soften the edges of its youthful killers and instead doubles down on their particular brand of nihilism.
Therottingzombie.co.uk: I expected Extracurricular to be a typical teen slasher even with the shift in perspective. I wasn't prepared for just how involved I would get into the story, and the second half especially was a particularly enjoyable and thrilling watch.
Wickedhorror.com: Dark, funny, thrilling, and loaded with YA menace, this is a refreshingly modern take on typical slasher tropes.
DOWNLOADS
Je moet ingelogd zijn om deze informatie te bekijken.
.