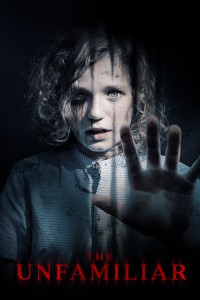 Release:
7 januari 2021

Regie:
Henk Pretorius


Cast:
Jemima West (Kidnapping Freddy Heineken)
Christopher Dane
Rebecca Hanssen


Genre:
Horror


Jaar: 2020





A Première TV Distribution Release
SYNOPSIS
Na haar terugkeer van de oorlog, wordt een Brits legerdokter geplaagd door paranormale hallucinaties. Lijdt ze aan PTSS? Is het huis behekst? Of is er iets anders aan de hand? Haar man stelt een familievakantie op Hawaii voor. Om haar gezin te redden, laat ze zich meezuigen in een ijzingwekkende mythologische onderwereld.
REVIEWS
Cinemasmack.com: Entertains for all of its ninety minute runtime. Horror fans should certainly give The Unfamiliar a shot as it doesn't disappoint.
Carlosdev.wordpress.com: I love those psychological horror films where the main character may or may not be going insane. This is one of those.
Darkeyesoflondon.blogspot.com: The Unfamiliar looks very good.
Gingernutsofhorror.com: builds an interesting mythology, has moments of tension, action, strong character development, is marketable, and has plenty other qualities.
Horrorfuel.com: Looks terrific, with splendid cinematography — including some crisp underwater sequences. Well made.
Thegrumpofhorror.wordpress.com: With good performances and a couple of good surprising developments in the story, I did enjoy the film.
Scariesthings.com: A clever take on what would at first glace feel like a conventional ghost story / psychological horror tale. It ends up spinning things in a way that is surprisingly satisfying and ends up being exactly as the title suggests: Unfamiliar.
DOWNLOADS
Je moet ingelogd zijn om deze informatie te bekijken.
.