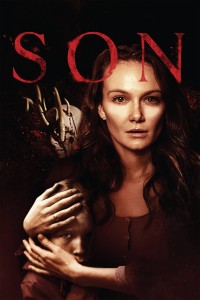 Release:
4 november 2021

Regie:
Ivan Kavanagh


Cast:
Andi Matichak (Halloween, Halloween Kills)
Emile Hirsch (Lone Survivor, Killer Joe, Into the Wild)
Luke David Blumm (The Sinner)


Genre:
Horror


Jaar: 2021





A Première TV Distribution Release
Collectie: 49 van 59
SYNOPSIS
Wanneer haar achtjarige zoontje ten prooi valt aan een mysterieuze ziekte, moet een jonge moeder uitmaken hoe ver ze wil gaan om hem te beschermen tegen de sinistere demonen uit haar sekteverleden. Met de hulp van een rechercheur, de enige die haar lijkt te geloven, bindt ze de strijd aan zoals enkel een moeder dat kan.
REVIEWS
Variety.com: Twisty, violent, well-crafted.
Screenrant.com: An unsettling fever-dream drenched in unspeakable acts that leave viewers on edge until the end.
Latimes.com: An amped-up version of everyday parental paranoia. This is ultimately a movie about a woman who loves her child so intensely that she becomes irrational - and dangerous.
Behindthelensonline.net: Twisted and terrifying.
Flickeringmyth.com: The performances become more layered and devastating. A twisted exercise.
Heavenofhorror.com: A rather glorious horror experience and definitely a horror highlight of 2021 so far!
Horrorfuel.com: The pacing is near-perfect, from the film's gripping opening to its incredibly creepy final scene.
Jumpcutonline.co.uk: Your mind is plagued with intrigue towards Laura's past from the first sequence, and its relatively steady pace unravels towards an eye-widening climax.
Markreviewsmovies.com: A chilling and occasionally gruesome piece of horror about paranoia.
Readysteadycut.com: Gripping, tense, bloody, and distinctly dark.
Screenrant.com: A thrilling ride into the bloodied entrails of terror and paranoia.
Thehollywoodnews.com: With echoes of Polanski's Rosemary's Baby and The Babadook, Son is a forever twisting tale of terror and trauma, featuring some excellent performances across the board.
Spoilerfreemoviesleuth.com: It blurs the fine line between reality and darkness while bringing us a story of pain and suffering that will see no happy ending.
Worldfilmgeek.com: a jaw-dropping finale.
DOWNLOADS
Je moet ingelogd zijn om deze informatie te bekijken.
.