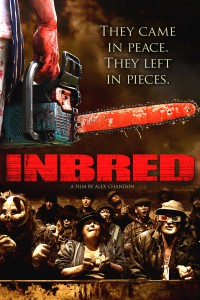 Release:
2 oktober 2012

Regie:
Alex Chandon


Cast:
Jo Hartley
Seamus O'Neill (War Horse)
James Doherty (In the Loop)


Jaar: 2011





A Première TV Distribution Release
SYNOPSIS
Vier jeugddelinquenten uit de grote stad moeten als onderdeel van hun taakstraf een weekend op het platteland doorbrengen. Samen met hun begeleiders belanden ze in Mortlake, een bizar, afgelegen dorpje in Yorkshire, waar de bewoners prat gaan op hun excentrieke 'eigenheid'. Dan escaleert een akkefietje met enkele lokale inteeltjongeren plots in een waanzinnig geschifte nachtmerrie. De vraag is niet alleen wié de slachting zal overleven, maar wàt er van de slachtoffers zal overblijven... Inbred ontpopt zich tot een hilarisch gruwelijk gorefest met spetterende special effects, die op diverse festivals bekroond werden.
REVIEWS
Twitchfilm.com: Awfully mean-spirited and often sickeningly gory ... The Amsterdam audiences (known for often being a raucous bunch of gorehounds themselves) awarded the film a 7.6 out of 10.
Wildsidecinema.com: a lovely black and absurd sense of humor ... a wet dream for a gorehound ... sheer fun!
Lovehorror.co.uk: At this year's FrightFest the audience absolutely loved it.
Dreadcentral.com: an amusing, deliciously gory, occasionally shocking and decidedly vicious little film.
DOWNLOADS
Je moet ingelogd zijn om deze informatie te bekijken.
.