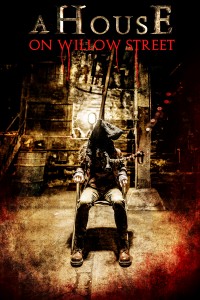 Release:
24 maart 2017

Regie:
Alastair Orr


Cast:
Carlyn Burchell (Bomb Girls)
Sharni Vinson (Step Up, Bait)
Gustav Gerdener
Zino Ventura
Steven John Ward


Jaar: 2016





A Première TV Distribution Release
SYNOPSIS
Hazel Davies (Sharni Vinson - Bait), een vrijgevochten vrouw met een weinig rooskleurig wereldbeeld, bedenkt samen met een groepje handlangers het ultieme "snel rijk"-plannetje. Ze zullen Katherine (Carlyn Burchell - Bomb Girls, Robocop), dochter van de schatrijke Daddy Hudson, ontvoeren en een gigantisch losgeld eisen. Wanneer ze het afgelegen landgoed van de Hudsons infiltreren, worden de rollen echter al snel omgekeerd. Katherine blijkt bezeten door de gruwelijke demon Tranguul. Deze "Verslinder van Gekwelde Zielen" zette haar aan tot de moord op haar ouders en enkele weinig efficiënte exorcisten. Als Tranguul nog drie zielen kan absorberen, kan de demon zich in zijn ware gedaante manifesteren...
Scenarist en regisseur Alastair Orr (Indigenous) levert met A House in Willow Street andermaal een ijzingwekkend genrepareltje af, dat inspeelt op onze diepste angsten. De sfeervolle fotografie en een geslaagde mix van old school make-up en geavanceerde computereffecten laten de horror en het bloed letterlijk en figuurlijk van het scherm spatten.
REVIEWS
Britflicks.com: Fortunately, From A House On Willow Street does have great looking set pieces. They showcase beautifully the fantastic visual effects of George Webster and computer generated wizardry of Derik van den Berg. Equally, Director Alastair Orr delivers a few frights and confidently captures the mania and fear.
Eyeforfilm.co.uk: There's a lot more visceral horror here than in the average supposedly gruesome possession film, so it works well enough for a Friday night thrill.
Horrocultfilms.co.uk: It's visually impressive, has some strong set pieces and the pacing's fairly good.
Projectedfigures.com: There is much fun to be had with its po-faced silliness and macabre maximalism.
Wyliewrites.com: From a House on Willow Street has some amazing makeup work, one of the best posters of any film at the Toronto After Dark Film Festival, and the film includes the most clever scare in a horror in recent years. The film also utilizes chiaroscuro effects to great value.
Dreadcentral.com: A good setup, a majority of solid characters (and cast) and some balls-out demon action in the final stretch manages to ensure From a House on Willow Street provides enough entertainment to see you through to the end.
DOWNLOADS
Je moet ingelogd zijn om deze informatie te bekijken.
.