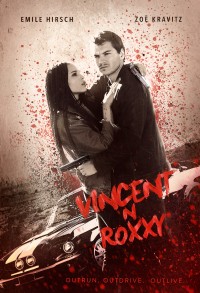 Release:
11 mei 2017

Regie:
Gary Michael Schultz


Cast:
Emile Hirsch (Lone Survivor, Killer Joe, Into the Wild)
Zoë Kravitz (Mad Max Fury Road, Divergent, Allegiant, X First Class)
Zoey Deutch (Dirty Grandpa, Why Him, Beautiful Creatures)
Emory Cohen (Brooklyn, The Gambler)
Scott Mescudi (Entourage, Need for Speed)


Jaar: 2016





A Première TV Distribution Release
SYNOPSIS
Op de vlucht naar zijn geboortedorp redt Vincent (Emile Hirsch - Lone Survivor, Killer Joe, Into the Wild) de enigmatische schoonheid Roxxy (Zoë Kravitz - Mad Max Fury Road, Divergent, Allegiant, X First Class) uit de klauwen van een moordlustige gangster.
Tussen de twee volslagen vreemden, die noodgedwongen moeten onderduiken op het platteland, ontstaat een passionele romance. Maar waarom heeft Vincent haar gered en wat heeft hij met de dood van haar broer te maken?
Wanneer drugsbaas Suga het paar weet te vinden en met extreem geweld antwoorden zoekt laat Roxxy zien waar ze van gemaakt is.
Vincent-N-Roxxy is een misdaaddrama à la Drive en True Romance waarin ultraviolence en intimiteit elkaar naadloos naar het leven staan. Zoë Kravitz, dochter van Lenny Kravitz en Lisa Bonet, is een revelatie als het rebelse grotestadsmeisje dat valt voor Hirsch' eenzame wolf.
REVIEWS
HollywoodReporter.com: A slow-build love story that takes a hard left turn at the end. Emile Hirsch and Zoe Kravitz, as strangers thrown together by a violent incident, enjoy an easy chemistry here, encouraging viewers to forget the menace that starts the story and, with startling violence, will end it.
Indiewire.com: When things take a hard left turn and the powder keg of violence finally explodes, the fallout is shocking to a degree that's almost never seen in new American cinema.
Letterboxd.com: A stiff-lipped, fist-clenched, tragic romance with a gruesome hunger for violence. The final shot echoes Drive in a way that will inevitably draw some comparisons.
DOWNLOADS
Je moet ingelogd zijn om deze informatie te bekijken.
.