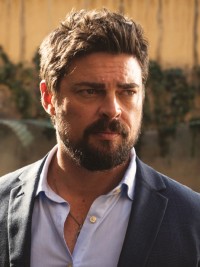 Release:
TBA Q2 2018

Regie:
Bobby Moresco (Won Oscar for writing Crash)


Cast:
Karl Urban (Star Trek, Thor Ragnarok)
Sofia Vergara (Modern Family, Chef)
Andy Garcia (The Godfather, The Untouchables, Geostorm)


Jaar: 2018

A Première TV Distribution Release
SYNOPSIS
Nederlandse synopsis volgt z.s.m.
BENT follows Danny Gallagher (Karl Urban), a discredited narcoticsdetective who, upon his release from prison, makes plans to seekrevenge on the accuser who framed him and killed his partner.Through his quest, Gallagher is forced to confront a ruthless,seductive government agent (Sofi a Vergara), who may or may not beon his side; and his mentor (Andy Garcia), a retired cop who's fought corruption his entire career.
DOWNLOADS
Je moet ingelogd zijn om deze informatie te bekijken.
.