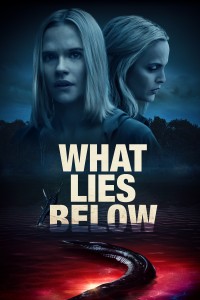 Release:
22 april 2021

Regie:
Braden R. Duemmler


Cast:
Mena Suvari (American Beauty)
Ema Horvath
Trey Tucker (The Outpost)


Jaar: 2020





A Première TV Distribution Release
SYNOPSIS
In hun huis aan het meer stelt Michelle haar tienerdochter Libby onverwacht voor aan haar nieuwe verloofde John: slim, lief, grappig en onweerstaanbaar. De perfecte man. Maar wanneer moeder boven ziek in bed ligt, ontpopt John zich tot een sluwe en sinistere verleider. Wat gaat er schuil onder het oppervlak van het meer? Of van Johns huid?
REVIEWS
RogerEbert.com: Memorably creepy, has some swing-for-the-fences chutzpah.
Cinemarvellous.com: Surprisingly good for a B-movie, and it has some interesting ideas up its sleeve.
Culturecrypt.com: I definitely dig the grim ending.
Heavenofhorror.com: If you like indie movies that mix genres in all the best ways, then do check out What Lies Below.
Horrorfuel.com: What Lies Below serves up enough head-scratching moments (in the good way) and unexpected reveals to make it a recommended watch.
Horrorbuzz.com: What mainly makes What Lies Below succeed is the masterful building of suspense.
Ukfilmreview.co.uk: The creep factor in What Lies Below holds steady.
Rabbit-reviews.com: A fun movie.
Screenrant.com: effectively delivers slow, creepy, atmospheric dread and some sleek thrills.
Voicesfromthebalcony.com: An enjoyable creature feature.
Worldfilmgeek.com: Some great performances by Ema Horvath, Trey Tucker, and Mena Suvari help drive the film and that ending is unforgettable.
DOWNLOADS
Je moet ingelogd zijn om deze informatie te bekijken.
.