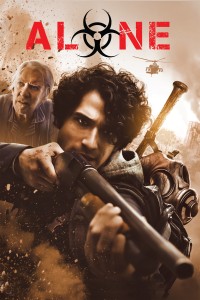 Release:
1 juli 2021

Regie:
Johnny Martin


Cast:
Tyler Posey (The Last Summer, Teen Wolf)
Donald Sutherland (The Hunger Games, Pride & Prejudice, The Italian Job)
Summer Spiro


Jaar: 2020





A Première TV Distribution Release
SYNOPSIS
De wereld valt ten prooi aan een gruwelijke pandemie die van mensen monsters maakt. Screamers. Radeloos na wekenlang isolement, besluit Aidan er een eind aan te maken. Dan ontdekt hij een lotgenote, Eva, aan de overkant van het gebouw. Ze maken een plan om samen te ontsnappen. Ook een oudere buur blijkt nog levend en wel. Een onverhoopte ommekeer. Of niet?
REVIEWS
Blu-ray.com: An appealing balance of human concern and monster attacks, Sutherland's seasoned abilities add oxygen to the picture.
Bulletproofaction.com: Alone is a Relevant Movie in Today's COVID-19 World.
Butwhythopodcast.com: A Horrifying and Relatable Experience. Fans of survival horror and zombie horror will enjoy Alone and possibly relate to surviving and coping through a pandemic.
Fmovie123.com: It was exciting, the fear was unobtrusive, but steadfastly penetrated to the bone.
Irishfilmcritic.com: Gripping.
Edgemedianetwork.com: this is Posey's movie all the way, and he is pretty terrific. The action sequences are intense and nimble, and while #Alive made the action more extreme, here it's more realistic while also being nail-biting.
DOWNLOADS
Je moet ingelogd zijn om deze informatie te bekijken.
.