VOD Juli 2023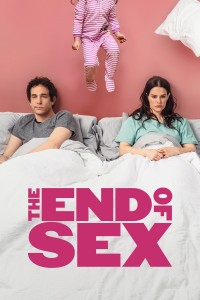 Komedie, Romantische komedie

Beschikbaar voor VOD: 6 juli 2023

Regie: Sean Garrity

Cast: Jonas Chernick (The Border, Degrassi, An Awkward Sexual Adventure), Emily Hampshire (Schitt's Creek, Mother!)
Een gelukkig getrouwd koppel komt tot de vaststelling dat hun seksbeleving een routineuze rompslomp is geworden. Het logeerkamp van hun twee dochters is dan ook het ideale moment om het roer om te gooien. Kunnen fantasieën, seksperimentjes, en een bevriend koppel dat zelf op scheiden staat, de magie van weleer terugbrengen?

De doorleefde vertolkingen en de chemie tussen de geloofwaardige personages maakt van The End of Sex een beurtelings tenenkrommende en hartverwarmende komedie over de onvermijdelijke evolutie die elke relatie te zijner tijd moet ondergaan. 
Reviews
Digitaljournal.com: Funny because it feels so true. Does an excellent job of embracing and showcasing the humour of their situation. Chernick and Hampshire deliver excellent performances, nailing the chemistry essential to the narrative's success, as well as exhibiting spot-on comedic timing.
Screenzealots.com: Finds humor in clumsy sexual encounters and increasingly uncomfortable situations. Impeccably cast, with believeable actors playing equally credible characters.
Skonmovies.com: Harmless fun about a couple trying to spice up their marriage.
Shockya.com: Fun and provides a humorous look at the way that marriage, and any relationship, can change over time.
Solzyatthemovies.com: This is the sort of film where the comedy just writes itself, especially with the situations that they find themselves in. A proven winner for any distributor acquiring the film out of Toronto (!)
Thatshelf.com: Chernick and Hampshire display great chemistry throughout. Their performances allow the characters to feel like relatable people rather than caricatures. A sharp and refreshing comedy, The End of Sex is a perfect date night flick.