VOD April 2023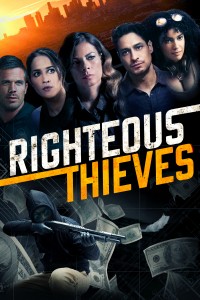 Thriller

Beschikbaar voor VOD: 6 april 2023

Regie: Anthony Nardolillo

Cast: Cam Gigandet (Priest, The Twilight Saga: Breaking Dawn II, Easy A), Jaina Lee Ortiz (Shooter, Station 19), Lisa Vidal (Shameless, Star Trek - The Future Begins)
Een sterfbedbelofte aan een Holocaustoverlevende is het startschot voor een spetterende heist movie. The Syndicate moet onschatbare schilderijen terugstelen van een neonazimiljardair. Voor CEO Annabel, meester-oplichter Eddie, hacker Lucille, kluiskraker Nadia en straatvechter Bruno begint de missie van hun leven.

Stelen voor het goede doel... Righteous Thieves levert een knaller van formaat af in de aloude traditie van heist movies à la The Thomas Crown Affair, Tower Heist en andere against all odds-films, maar dan met een eigentijdse twist of twee. Zoals de samenstelling van het team en de 'probleemoplossing'... maar zijn ze nu ongelofelijk moedig, of ongelofelijk dom?
Reviews
Acinetvreview.com: a worthy story of revenge and redemption.
Cupofteacritiques.com: An entertaining story about a team of mostly longtime friends coming together to recover valuable paintings. It would not be surprising if Righteous Thieves morphed into a sequel or two.
Lylesmoviefiles.com: From the pulse pounding hip hop soundtrack, the diverse group of experts, wild action and a pompous scumbag villain itching to get taken down several pegs, it's obvious that Righteous Thieves studied at the prestigious Academy of Fast and Furious School of Action Filmmaking.
Nycmovieguru.com: Slick editing and maintains a fast pace.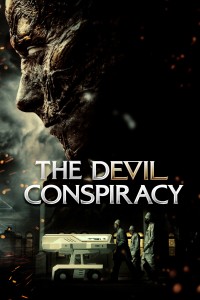 Horror, Thriller

Beschikbaar voor VOD: 13 april 2023

Regie: Nathan Frankowski

Cast: Alice Orr-Ewing (The Courier, Andor), Joe Doyle (Salem, A Call To Spy), Eveline Hall (Old People), Peter Mensah (Snake Eyes - G.I. Joe Origins)
Jezus' DNA uit de lijkwade van Turijn is voor een almachtig, door satanisten beheerd biotechbedrijf voldoende om het ultieme offer aan de duivel te brengen: een kloon van Christus. Voor Aartsengel Michaël begint letterlijk en figuurlijk een hellevaart om de samenzwering van de duivel te beëindigen.
De eeuwenoude strijd tussen Hemel en Hel barst andermaal los en de Aarde is weer de pineut in deze fantasmagorische strijd die tussen twee knettergekke set pieces ook nog eens thema's als genetische manipulatie en godsdienstwaanzin aankaart.
Reviews
Aisleseat.com: Entertained me greatly with its unbridled lunacy.
Vocal.media: The film is filled with energetic action and lively interplay over big incidents involving kidnapped women, genetic manipulation, and the return of Satan to the living world via the womb of an unwilling mother.
Irishfilmcritic.com: The action is stellar, makes for a thrilling and entertaining distraction.
Jbspins.com: Conspiracy is often deranged but it looks surprisingly polished. Its logic is dubious, but there is consistency and method to its madness.